My brother and his friend Jessica visited me once upon a time in 2004. They wanted to see Chicago and my brother had a great deal at the Crowne Plaza because at the time he was working at a sister hotel. Jessica was also able to pull some strings at some of the touristy places through her job as well. My brother really gets into the history of the places he visits so once again he proved to be the walk-your-feet-right-off-your-body tour guide.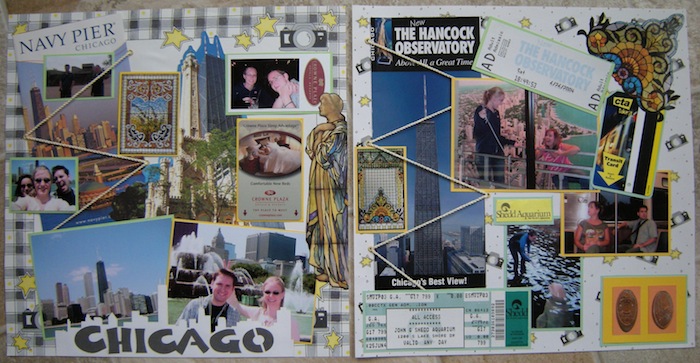 Weekend vacations are so thrilling because, at least for me, I want to get my weekend's worth! I like them busy and packed with goodness. That is how this trip was. I hadn't ever been a tourist in Chicago – it was new to me. We saw Navy Pier, the Hancock Observatory, and the Shedd Aquarium (even a dolphin show!). We also saw a lot of historic buildings and bro told all.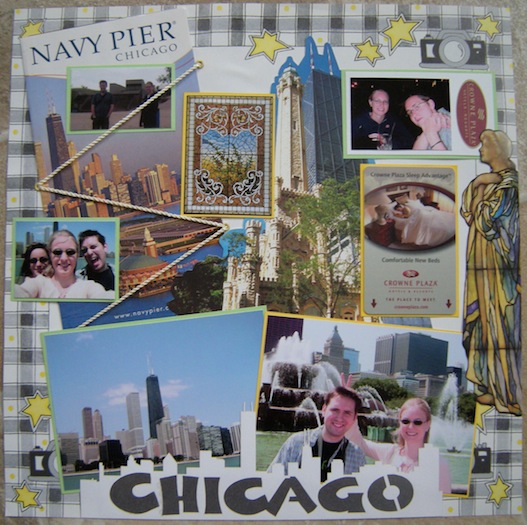 This layout used the rope trick again for the brochures, some coins from tourist machines, tickets, hotel key (apparently that's pretty standard for me…), my CTA transit card, some things cut from brochures, and the Chicago sign I bought at a scrapping store. You can see I've started to cram things onto my pages. This isn't everyone's taste, but I have been drawn to scrapbooks since seeing really old ones where the eye never stops traveling. Loaded with information, photos, and memories.