A long while ago, I posted a similar project on pattern darning by Lin Vandenberg, called Historical Egyptian Treasures. With the first, I followed the rules as exactly as I could. The bookmark immediately went into Boy's library, since he always has a stack of books in play at any given time, bouncing from topics like philosophy, engineering, role playing games, and – most of all – books he is always surrounded by – what-I-call the "alphanumeric soup" of computer technology. I knew this bookmark would disappear, too, so I veered from the rules a little. Rather than using the red and white theme that came in the kit, I went with his favorite color: green. I happened to have the right sizes of perle cotton in my stash, so no shopping required!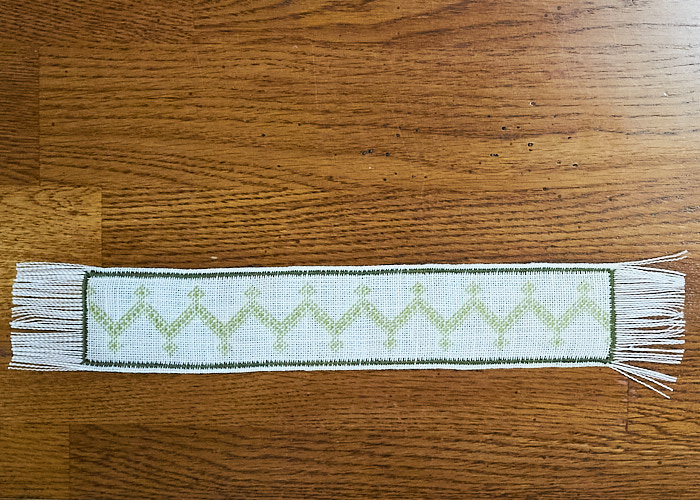 According to the kit, this pattern "is an adaptation of a 13th-15th century" Mamluk period design (same as the other bookmark). "The diamond diaper pattern [repeated geometric patterns] and the pattern darning technique itself would travel to many distant lands where other embroiderers adapted it to become an integral part of their own distinctive needlework styles." Indeed, I was working on this in the lab during a break, and an Ethiopian student said it is basically the same as the traditional work his sisters make.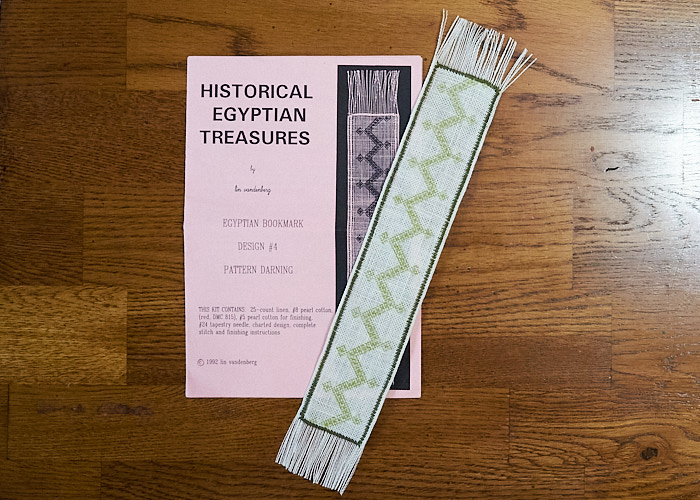 Though this pattern is labeled as #4, and the other #3, I found this one much simpler to finish. The darning pattern is relatively the same in difficulty, but the edging is what I found a difference in. I struggled a lot with #3, but this one – though tedious as well – was easy to grasp. I suppose the numbering just wasn't related to scale of difficulty at all. (If you have an eagle-eye, please ignore the mistakes;) I also didn't need to flip the linen's orientation with each row, so I did stitch both left-to-right and right-to-left – maybe because I've gained more skill, or simply that the pattern was easier to follow in either direction. Below is the reverse side – the uneveness is caused by securing thread ends.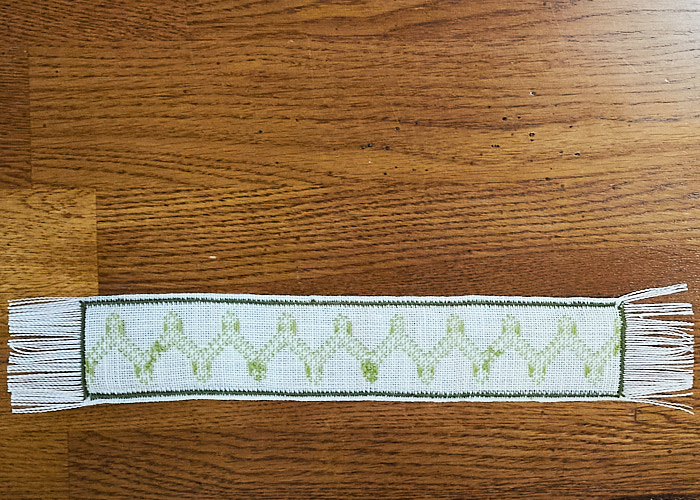 Pattern darning is about the only counted stitch I can tolerate – cross-stitch and needlepoint (or crochet/knitting) just isn't for me as I've said time and time again, though I do appreciate them, of course! I wish I could find Vandenberg's other patterns, just to round out Boy's bookmark collection, but the internet – as it so rarely can – has let me down. Boo.