Textile Artist's stitch challenge #6 was put on by Anne Kelly, whose example piece feels delightfully boheme. This became much larger than my other challenges, so that I could match the scale to the floral motifs I found in the fabrics of my stash. At the end, I was to add overstitching across the whole piece (such as in sashiko) but because of the way I padded some of it, and how some of it was fairly raised off the ground fabric naturally by ruffles, I didn't think it would work well. Looking back, I think Anne would have supported me going for it, but instead I chose a sunburst quilting theme for the background only.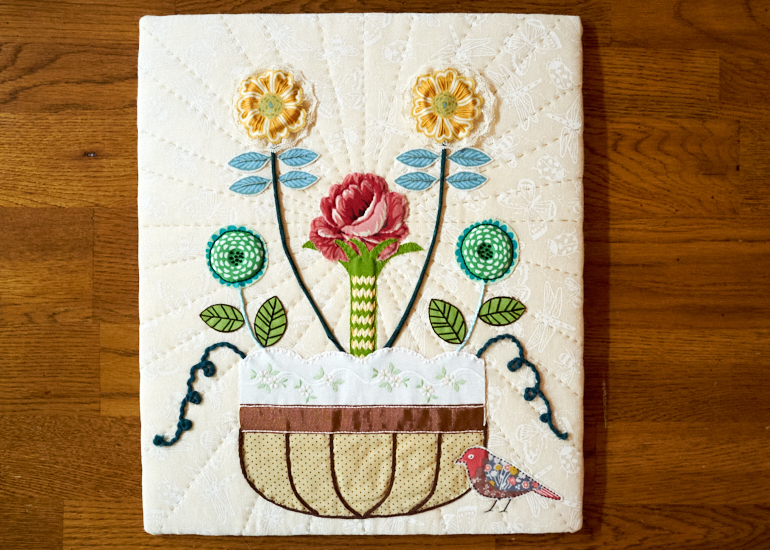 The background was originally a stark white cloth, with stamped insect images. I didn't want it so crisply white, so I tried using coffee to stain it. The coffee water was so very dark, I thought for sure it would be too much but I left it in overnight anyway. I was so surprised that this is as dark as I got it!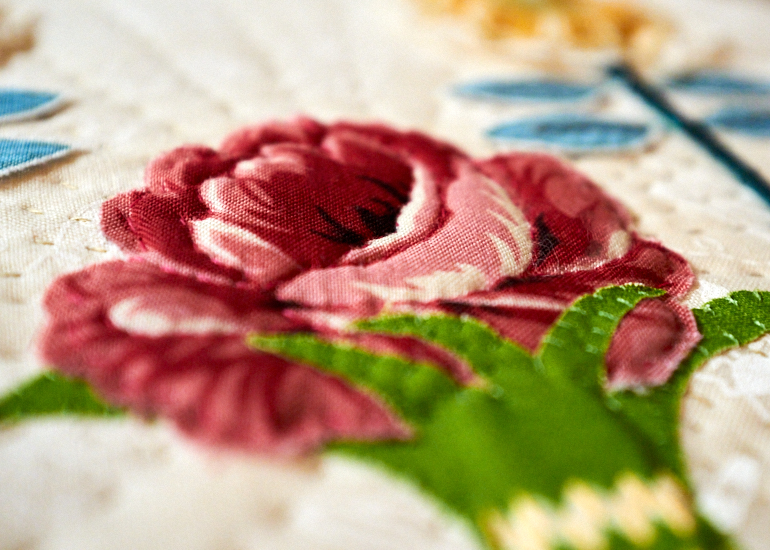 For the central rose, I padded it with a layer of felt, then backstitched along the design. The stalk is also padded, but I added orange thread to tie in the tall flowers a bit.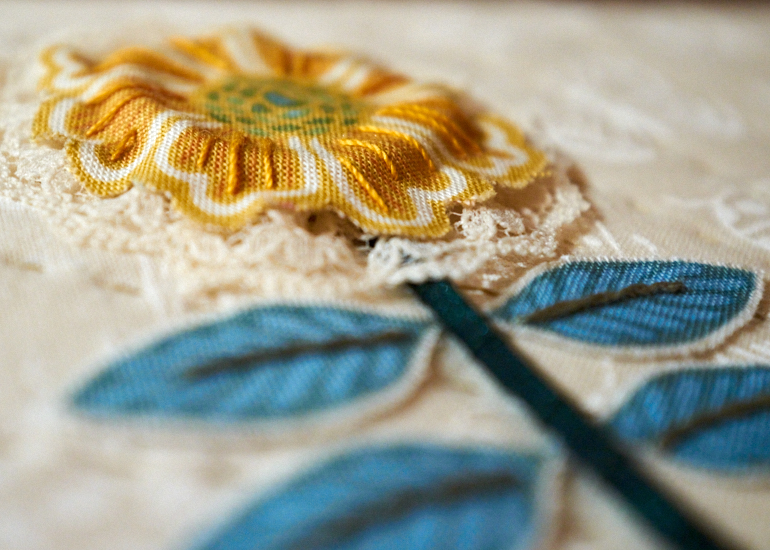 The tall flowers are padded in the center by a circle of felt, but most of their shape is from the ruffled edge of the lace coiled around them. For a subtle accent, I used a darker orange thread. The leaves are attached with stem stitch. The stem is out of a scrapbooking ribbon, so when I twirled it, it held its shape a bit and made a tube which I couched down.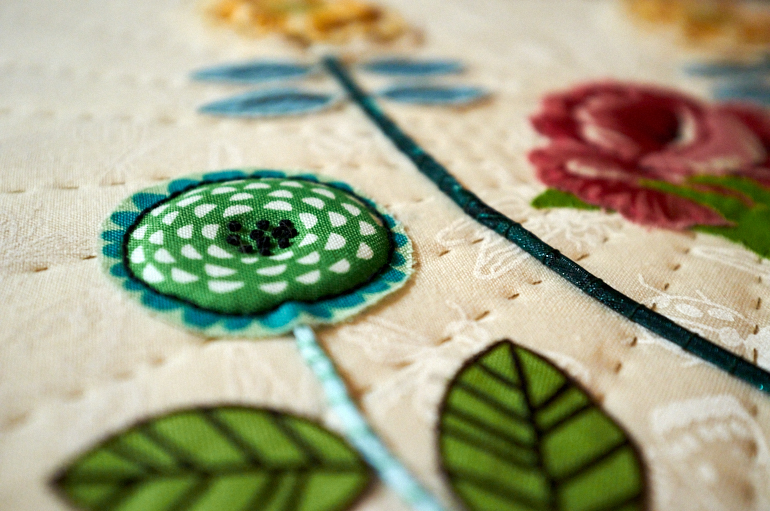 The short flowers have a backstitch around the edge with colonial knots in their center to tie in with their leaves, which are accented by black thread as well. Their stem is a paper twine (also scrapbooking) couched on.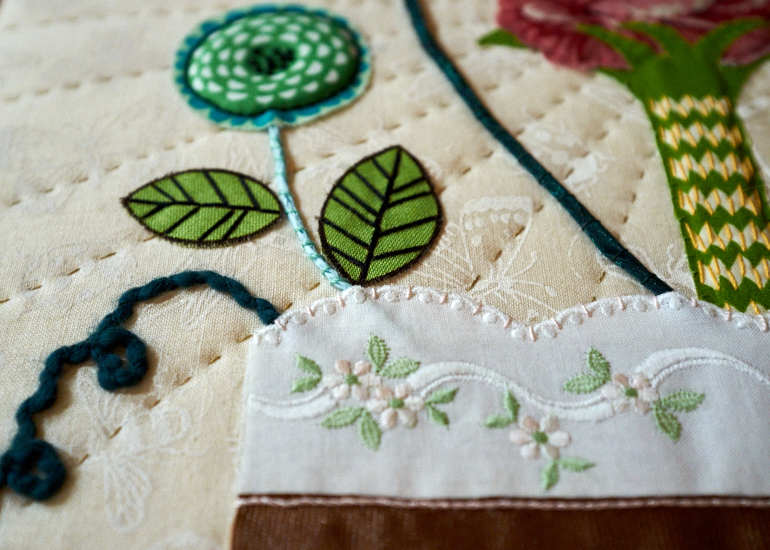 The vines are a softly braided twine found in a scrapbooking clearance bin, coiled around and couched down.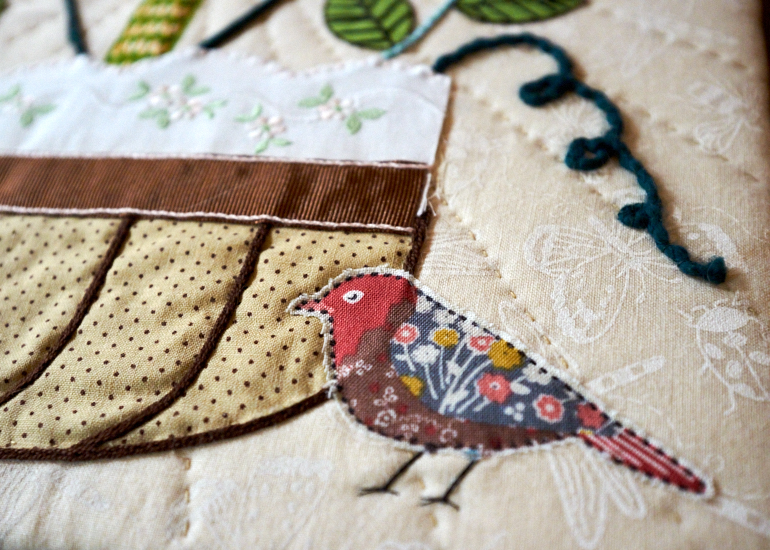 The pot is created from a strip of decorative edging, attached with blanket stitch along the top; a strip of brown ribbon attached with stem stitch, and then a piece of fabric shaped to be the bowl. This, I outlined using heavy chain stitch.
To add a bit of whimsy for the mirror-image formality, I stitched on a little bird cut from fabric, and added legs with straight stitch. For the sunburst pattern, I added a layer of batting and chose a simple running stitch. The project was then laced to a piece of foam board cut to size. I am not sure yet how to finish-finish it. I think a frame would be nice but I haven't yet dug one out.