I attended a free class at the county library hosted by a local quilt guild, Heritage Quilters (very similar to the one put on by my embroidery guild). Some of the embroidery guild members are also members of that guild, and I had been interested in seeing what they have to offer so it was a good time to do that! Plus, my neighbor (Boy's stepmom) is a newish quilter so I knew she would enjoy meeting the ladies.
We were given a small kit that included safety/pins and needles (a quilting, between, and crewel), a thimble, "light and dark" fabrics, batting, thread, a slip of felt (for stashing the pointy bits), and a chance to win some mini-scissors (alas, neither of us won).

It was a very basic introduction to quilting and sewing in general so I knew most of it already but that bothered me none. I was more interested in learning about the guild anyway. But I did learn a thing or two! I can now make a quilter's knot (previously, I did the lick-the-end-of-the-thread, loop-around-finger-and-twirl method which sometimes leaves quite bulky knots!). I had tried to do this a while back but hadn't realized that I was pointing the thread in the wrong direction (which results confoundingly in no knot!). Google it – there are a lot of resources to show you what I am talking about. I must still practice popping it through the fabric though, as I tend to yank it all the way through and back out again. Boo.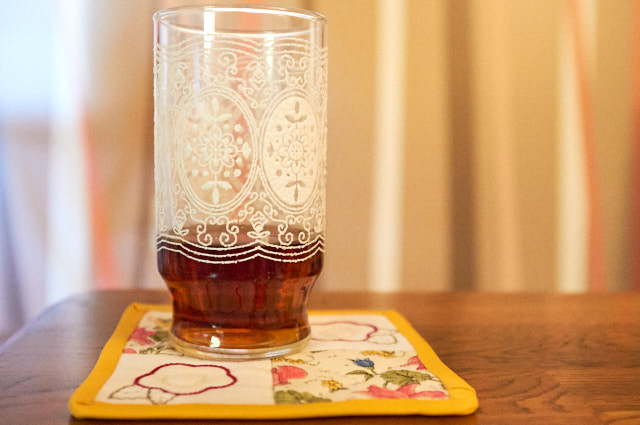 We couldn't stick around to finish our little mug rugs, but I whipped mine up today. It is not my best work by any stretch (especially the sad binding!), but I did learn some technique in planning. It was suggested to "stitch in the ditch" between each fabric, "straight stitch" across the corners of the "dark" fabric, and then quilt a shape in the "light" fabric. I can't help but embroider sometimes, as before I even realized what I was doing, I had embroidered a red flower with whipped stem stitch. Oh well!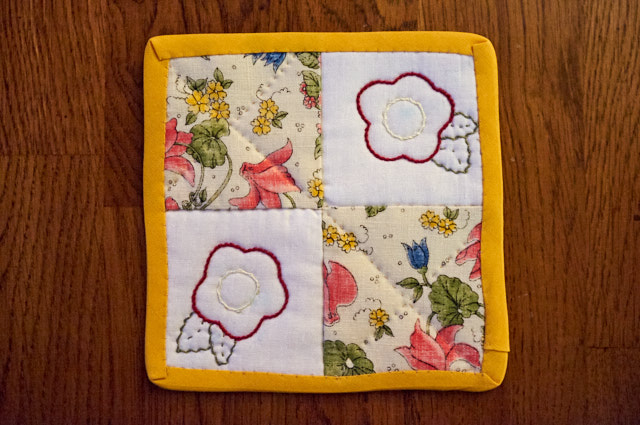 And I had been talking to my MIL about embroidery projects; she said that back when she was really into it for a stretch, it was quite common to date pieces (and even sign them with initials) but that she doesn't see many people doing it today. I know I think it's rad to see photos of old embroidery with stitches like 1874 or something. That's probably the anthropological side of me, sweeting on the history of objects. So, I dated this one!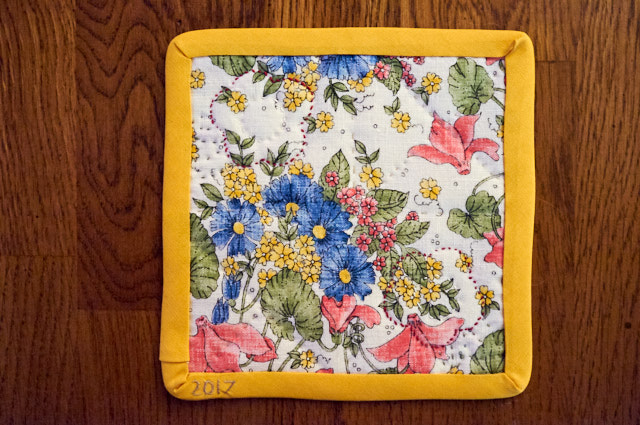 And totally unrelated, but if I ever got to name a quilt guild, I think I would name it Quild. Just sayin'. (And maybe Embroguild? It could work…)