I've reclaimed most of my house (and all of my craftroom!) from the kitchen remodel so I thought I should finally post about my scrapbook adventures. When I scrap, I usually have four categories I use to create the layout: 1) paper and embellishments (stickers, tags, clips, etc); 2) photos (left as original, cropped for a certain shape or size, or cut as shape in photo); 3) mementos (receipts, napkins, etc); and 4) information (maps, brochures, etc).
This is one of the earliest page layouts I did. I started scrapping with wedding pages, but it turns out that marriages do not last in all cases so I won't showcase any of those. But that's ok, because since I started with them, most look really really awful, lol. They are still among my favorite type of pages to make though, but I digress.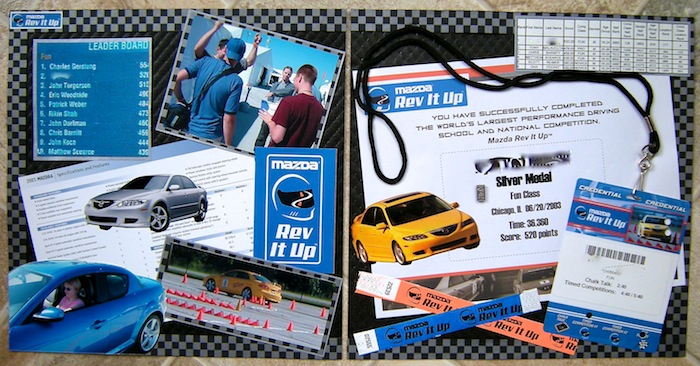 In 2003, Mazda ran a program near here called Mazda Rev It Up. I tagged along with Boy and some friends. The main premise is that you not only get to test drive their cars, but you get to *race* their Mazda6. I was too chicken to do that though I did test drive a convertible for fun. The guys were awesome at racing –  Boy scored 4th place at the location when all was said and done and nationally scored #128 in his class group. It was a really great time and if you hear of it in your area, do it! Lots of fun:)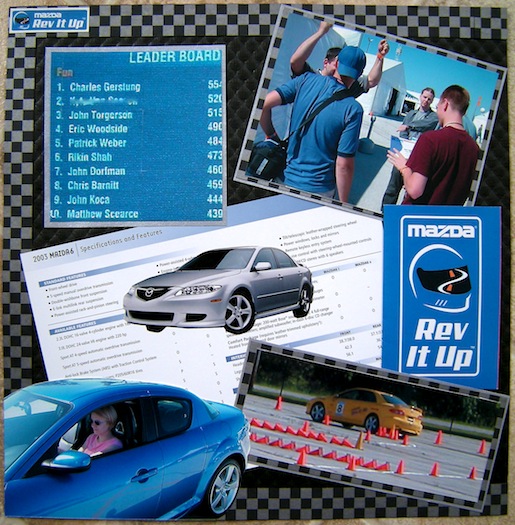 In this layout, I used Boy's Silver Medal certificate and pin, his credential badge, and our wrist tags as mementos. I used the Mazda6 brochure and Mazda Rev It Up booklet for information. I cut the cars out of the brochure, too, for more interest. The photos I included were the boys congratulating themselves on their wins, the scoreboard, boy racing in the yellow #8 car, me testing out the RSX (cut to "drive off the page"), and then also a computer printout with Boy's scores.