Sometimes four years go by before one posts about a crafting project because, well, it takes four years to complete it. And maybe not because it was a complex four-year-long process, but rather it was put up in a closet shelf for quite some time out of frustration and simply not dealt with. My Village Quilt is one such project.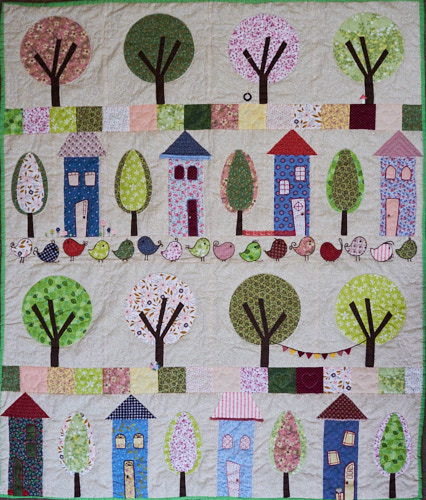 I first posted about it in April of 2018. You might recall that I began this quilt (after having stated previously that it would be unlikely that I'd be making another quilt, and lo, I'm making yet another as I type this! Apparently, I jinxed myself, but I digress and will comment further on the Hexie Dreams quilt later) to use up some of my gramma's fabrics, but that ultimately the project barely made a dent.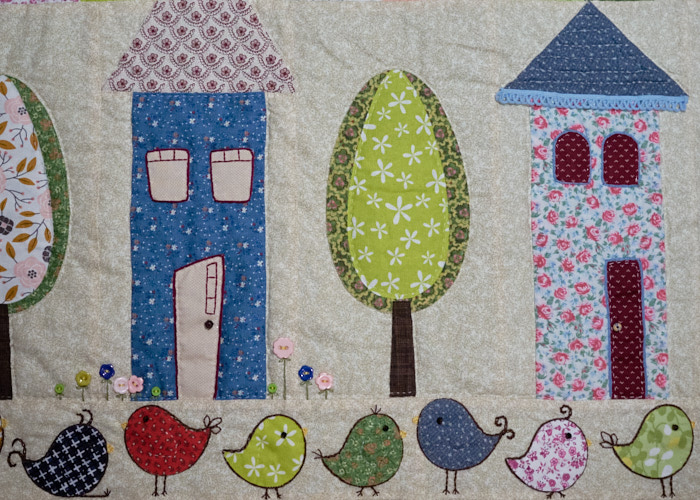 You may recall that my frustrations grew from the misguided belief that fusable applique was worth its salt. Granted, perhaps I just did it wrong – that's a fair hypothesis. But, because it wasn't permanent like I had thought, and I chose to use an invisible thread to stitch it all down, it rapidly grew into an un-fun project.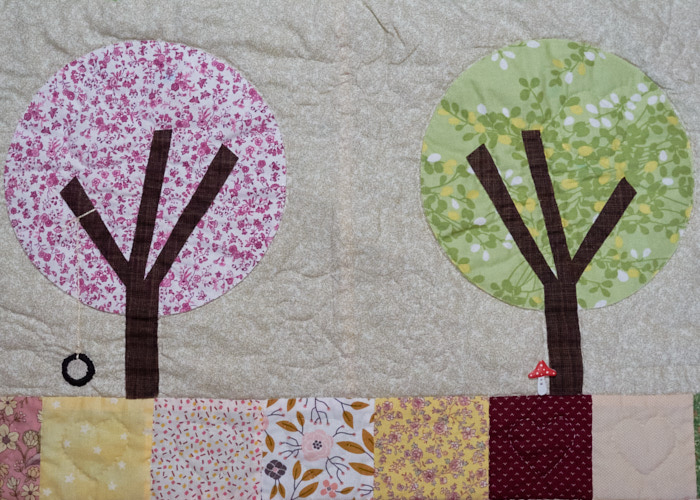 Once I finally had the gumption to get that all sorted out, I had a lot of fun decorating each house and plot of land. Of course, this meant that I basically transformed a usable quilt into a wall hanging, since washing it would be risky, but c'est la vie!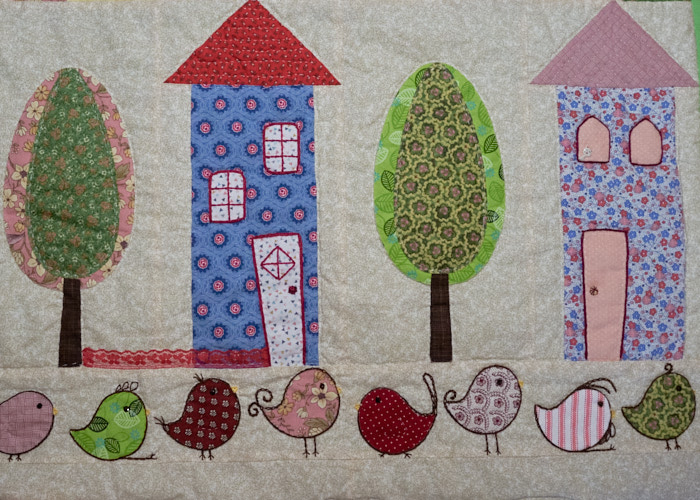 The design primarily came from SewMiniThings's Village Green quilt pattern. I changed the shape of the roofs, windows, and doors, though, to make each house unique and wonky. I also did not include the bigger outside border.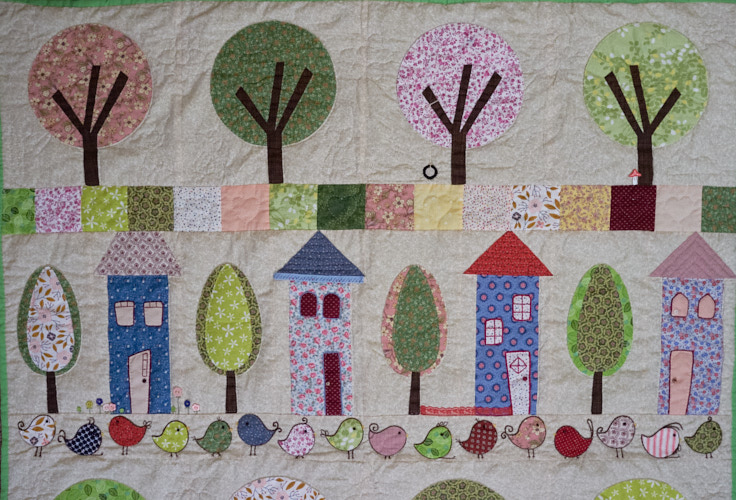 I thought about the personalities of the people living in the houses, and decorated them accordingly. While this removes some of the practicality of the quilt, I think it definitely is more in theme with what I do.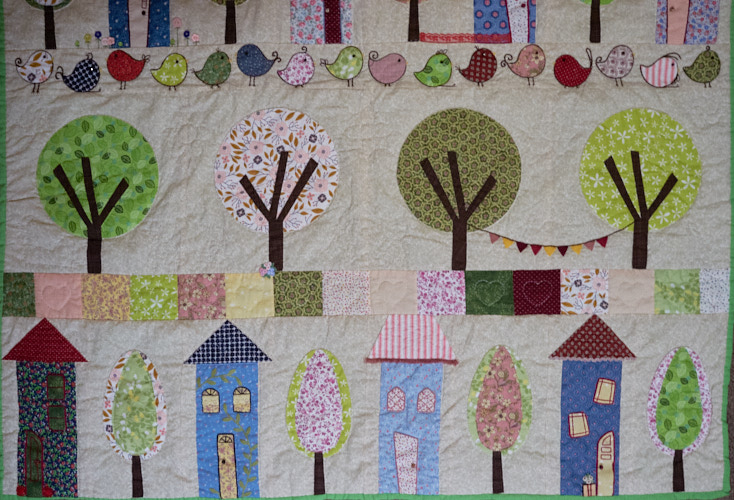 I love embellishments, and little hidden gems, like the kitty in this window.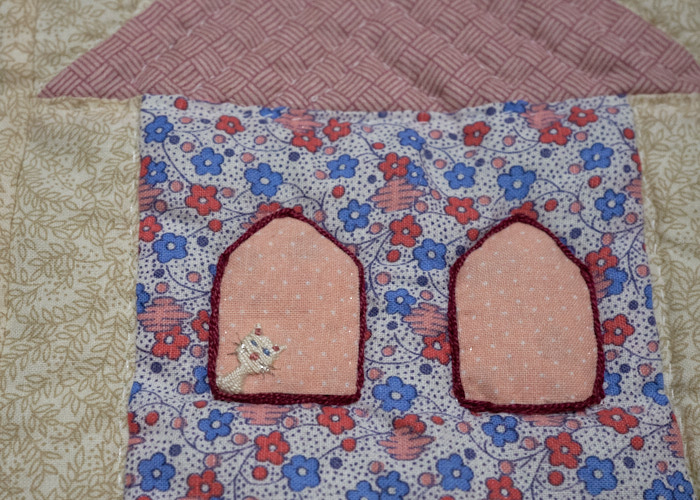 But when all was said and done, I did not want to quilt it. Indeed, the machine quilting option was off the table, and I wasn't in love with this thing enough to want to go through that process.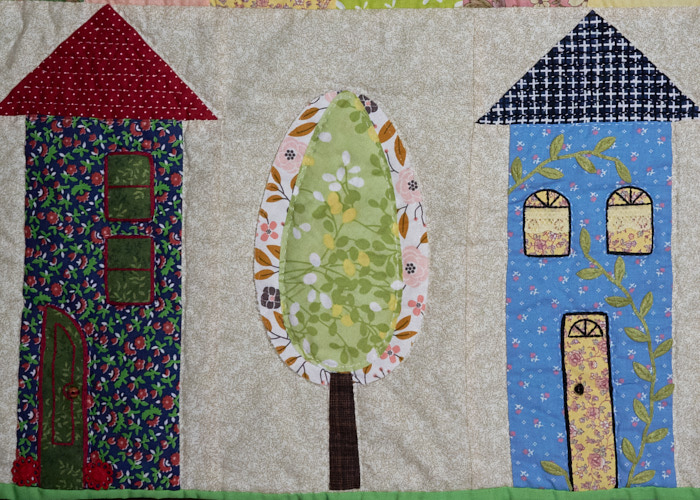 Yet, I needed to see it through to completion. I – and it – had earned that much. I was worried stitching through the fused applique would be tough so I asked my mom if she wanted the challenge, rather than asking my gramma (who will be given the Hexie Dreams challenge). Luckily she accepted. Living the RV life, she did all this in a hoop rather than a frame.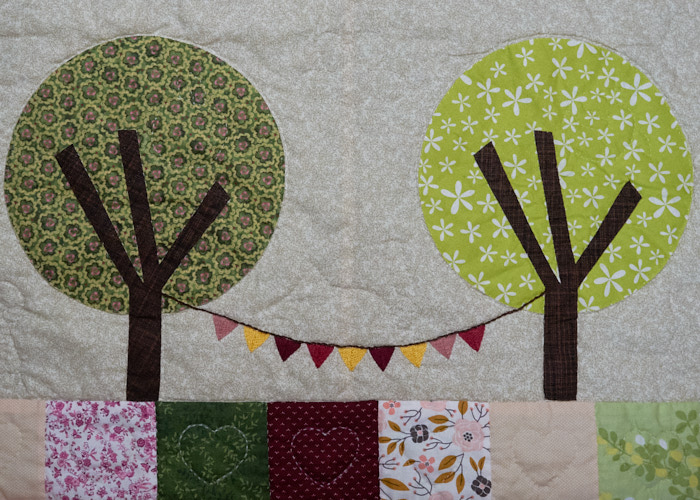 I told her some ideas I had, but to have fun with it because I thought I would donate it somewhere so it didn't need to be all about my preferences. (I've looked into a women's shelter or a housing placement program for the homeless.) My gramma helped pick out the wildly bright green backing and binding. I wasn't sold on it, but considering I didn't think I'd keep it, I went with it easily enough.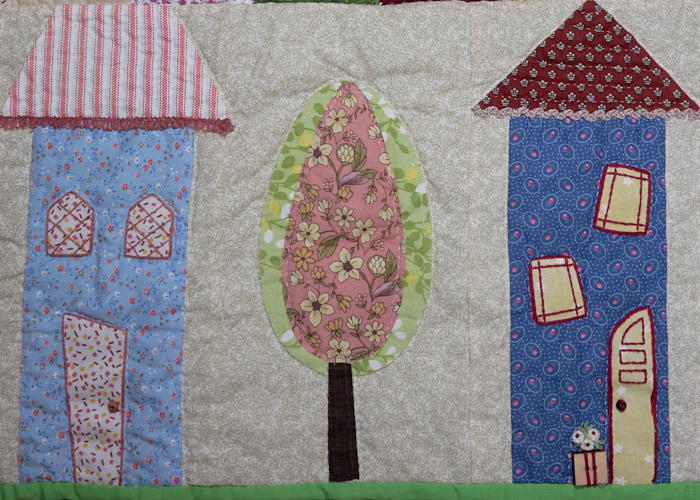 My mom, using bought plastic stencils and her own cardboard shapes, added some men and women and kitties to the mix. There are flowers and swirls and apples, too.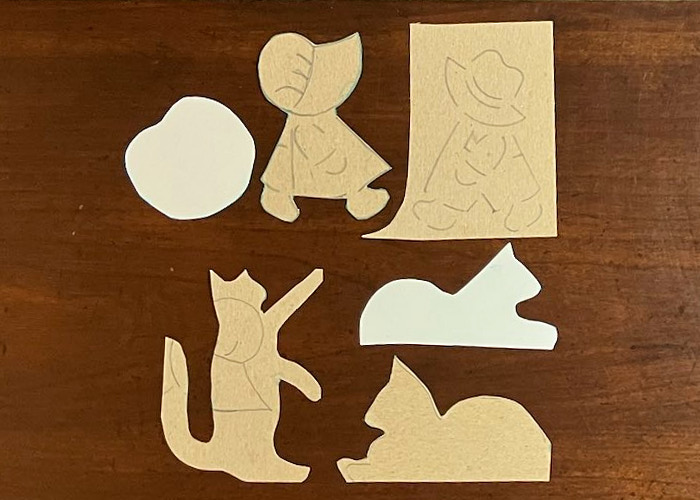 She went with my theme and made a few different decisions for each house so it wasn't just all the same. She added other little things, like an apple with a worm in it.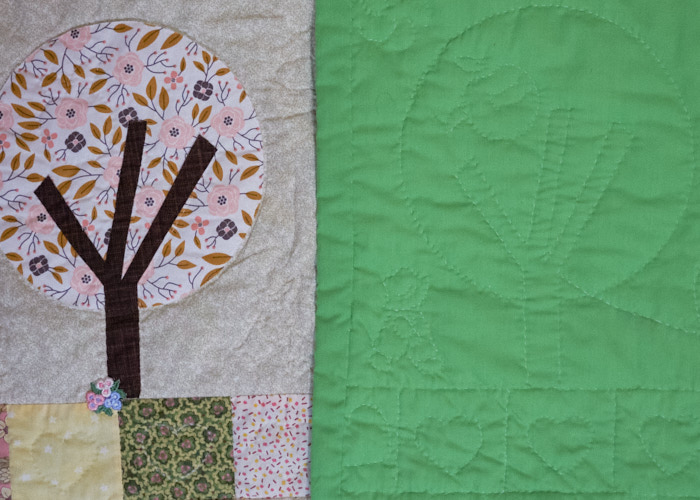 And in the end, seeing it all come together almost made me change my mind about donating it. In fact, I think the green is exactly what it needed, too. Alas, Boy of all people wants it, so I think I'll have to hang it up in the guest room for now. It's nice to have a number one fan:D (I imagine it will eventually find its way to a new home for a new start on life, but don't tell him that.)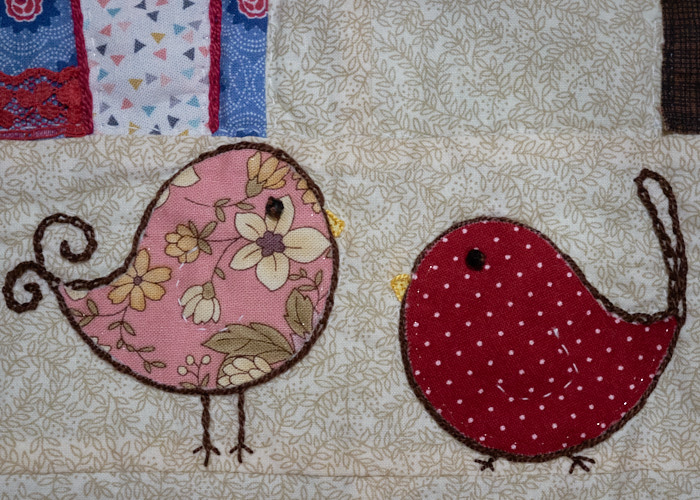 So, there you have it. A project that I considered never finishing, finally done four years later! Thanks, mom!