Near the end of last year, April Sproule led a workshop through TextileArtist.org's Stitch Club, using a spiral as our motif. I felt like a friend of mine would have liked this, so I asked her for a color palette. What – you think I would be able to stray away from my go-to colors otherwise? Ha!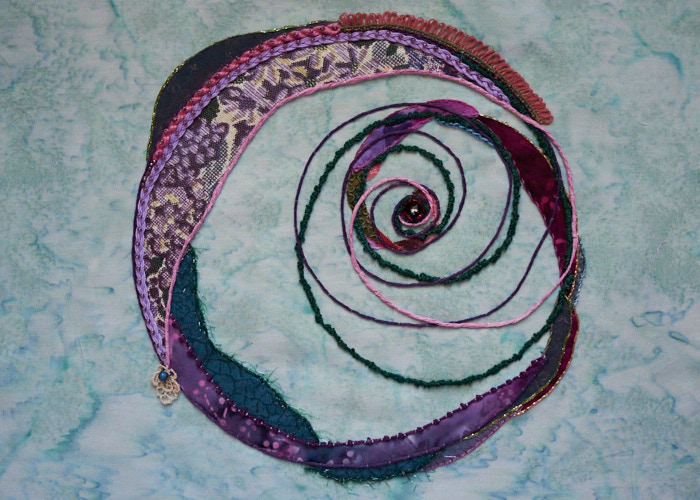 I knew I wanted to do something a little wonkier than what April provided in the workshop, so I searched online for different spiral ideas. I also have always found the Fibonacci spiral intriguing, so eventually I came to googling layers of that and found something to work from.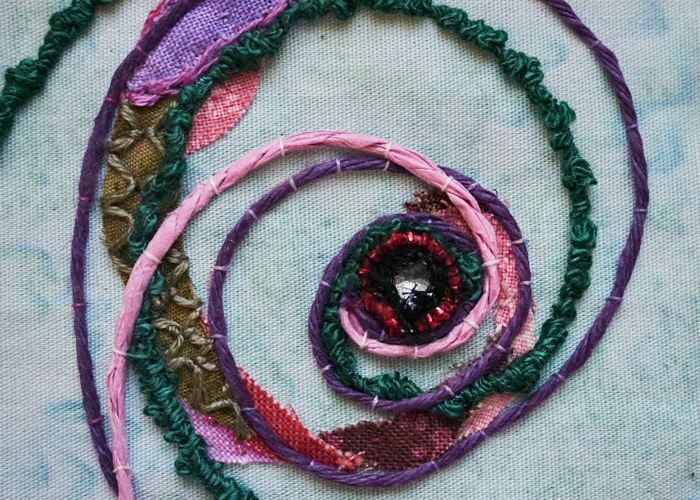 I set a clear crystal in the middle, surrounded by fluffy black thread and red check purl. I used a combination of fabric scraps, paper twines, and an interesting green fiber to spiral out from this center area of interest. Most is simply couched on or tacked into place, but a few areas have some embroidery.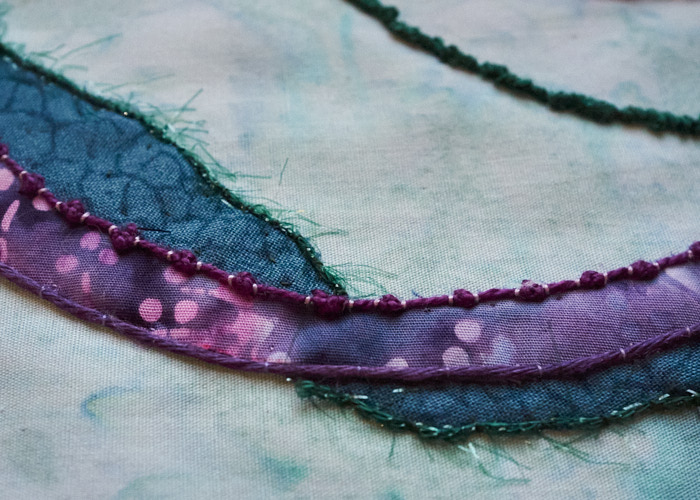 This didn't turn out like my vision – I wanted it to look more organic, messier in a way, more… earthy or layered. I'm not quite sure how to define it, but that's ok. It always takes practice, and I am still fighting years of neat and perfect stitching. I do like this area though, where the dark blue-green fabric, fringed in a tinsel green fiber, meanders behind the purple batik scrap. I outlined most of the spiral as a circle using the darker purple paper twine, and the other side of this scrap is lined with Perle cotton in one of my favorite textured stitches: pearl stitch. To highlight the knots, I simply couched on either side with a lighter thread.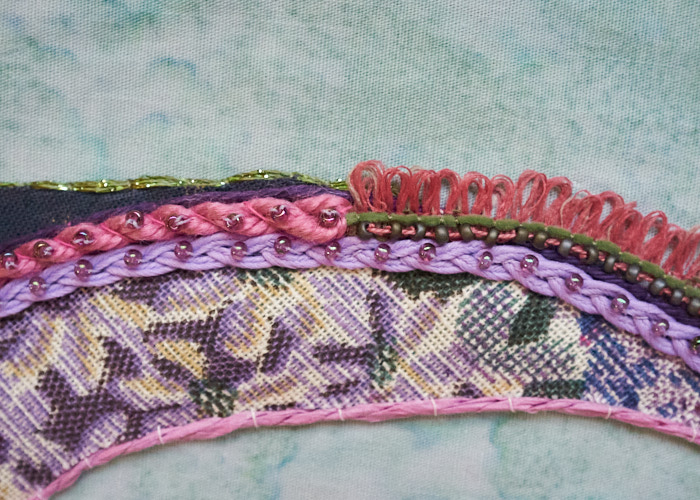 I also wanted to add more texture, so I dipped into my trims. The colors were a little too bright for what I was going for, so I toned them down by layering beads and a small velvet rope on top. It was a pleasant surprise to see how much that worked, though I could have pushed that a wee bit further. I just didn't have anything on hand that would work. I was shooting for moody, but got something more … berry?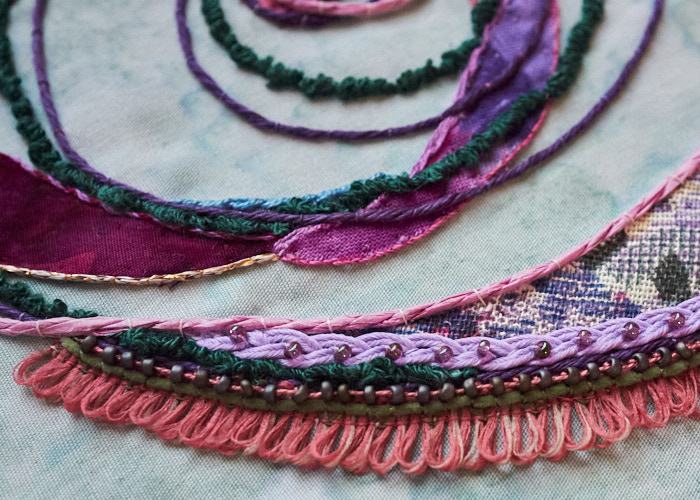 These beads added a little bit of bling, which was not part of my original idea either, other than the crystal center. But I didn't mind how the light caught them ever so slightly, like the tinsel green fiber. So, I added more bling, using a soft gold or soft green fiber here and there.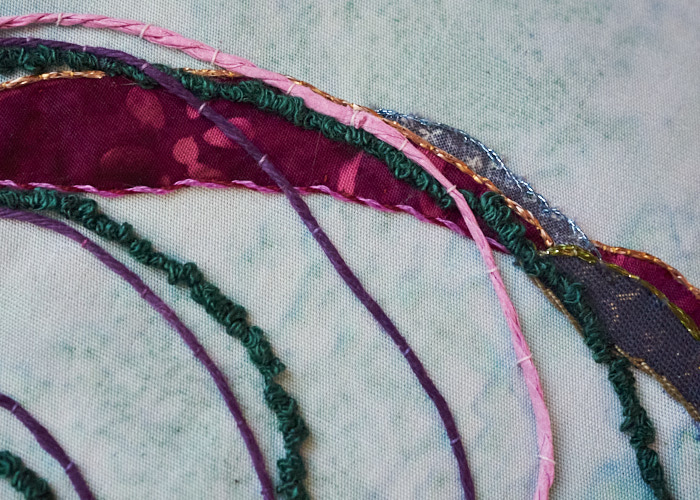 I also used a blue metallic thread, but those are such a pain to work with. I do have thread conditioner, but during this project I decided to tear apart my craft room to reorganize the furniture and plan for a closet system to make everything more accessible. In that mess, I didn't feel like digging around to get it. That's real life for ya!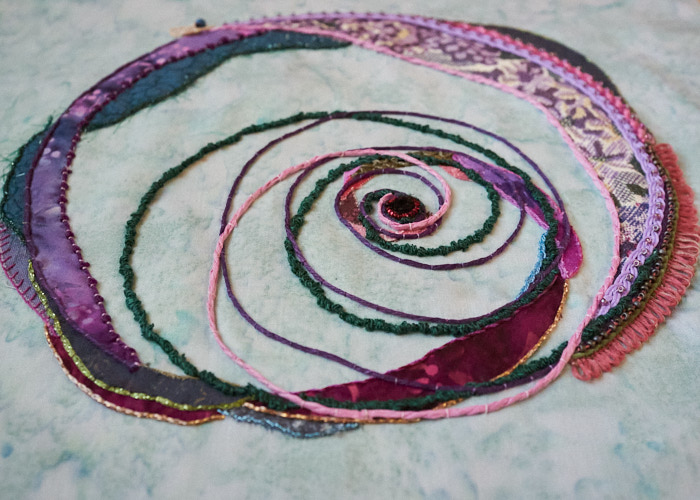 I wasn't really sure which way would be up when all was said and done. I liked a few options, but as I organically worked 'round and 'round, I felt only one way could be up.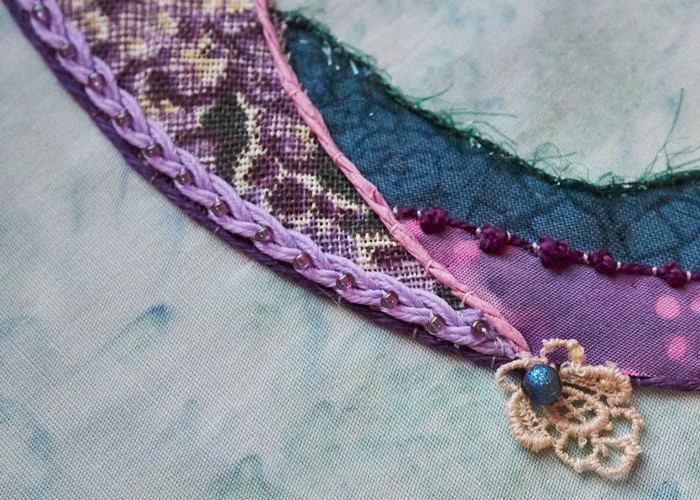 To help orientate that, I added this little embellishment, which points down when rotated into position. It's a very old cut of a lace motif, with a matte yet sparkly bead. Of course, it could also point in any direction! I thought it would really limit that, but it looks fine any which way.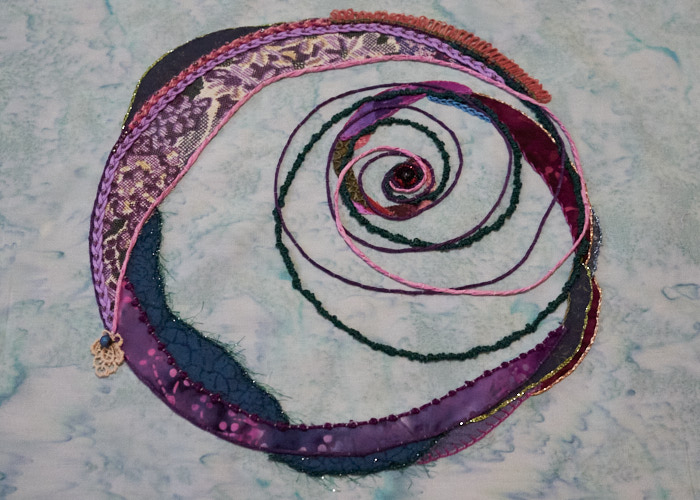 The last problem I had was just exactly how to finish it. My friend said she has plenty of wall space, which you'd think would make this an easy decision. But a frame? A hoop? Laced to a canvas? Square or diamond? Ultimately, I chose to cut a canvas board into a square. I cheated this time, using painters tape to stretch the fabric on the back, and then securing a square cut of felt all the way 'round. I doubt painters tape is archival, but the front is protected with the board, so I'm ok with that. And, if it slips, the stitching around the edge should keep everything neat. If not? Lessons learned!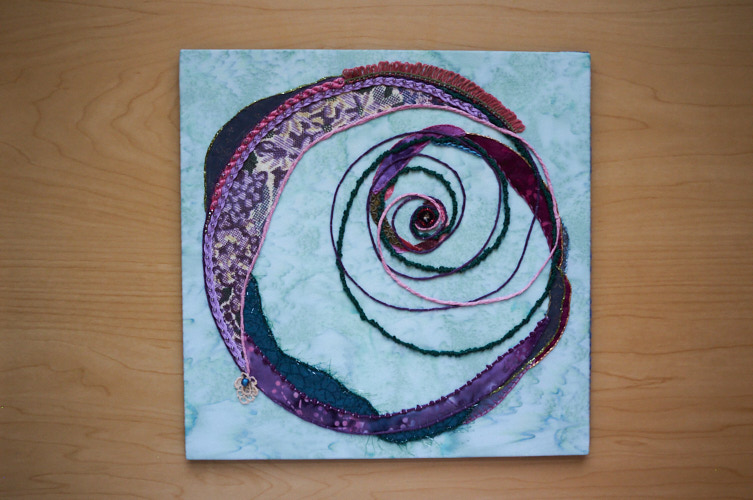 One last bit of fun I had was painting my friend's name abstractly on an envelope. It was an easy exercise: blue circles (with little bumps removed for the Ns), a slash of gold (to render the As), some dots of gold to suggest stars, and then a basic black sharpie to grow some pine trees.