I came across Christine's art journal pages at Patchwork Allsorts and felt inspired to make a stack of tea cups! I used her page for a model and found some 5″ charm squares for the fabric. And I happened to have a small art canvas on hand for the backdrop.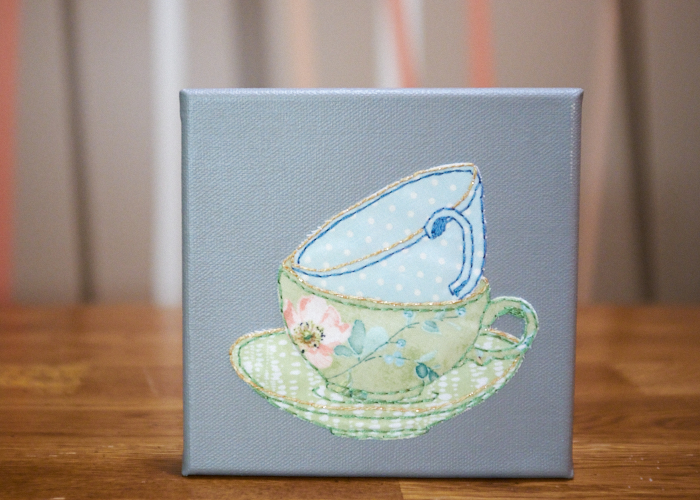 I painted the canvas a calm grey. While it dried, I used an iron-on interfacing to stabilize the fabric before cutting. Then I used perle cotton to attach the cups to the canvas and add a small amount of detail. I enjoyed the simplicity of the project, since I have some larger and more complex works-in-progress that are tiring me out.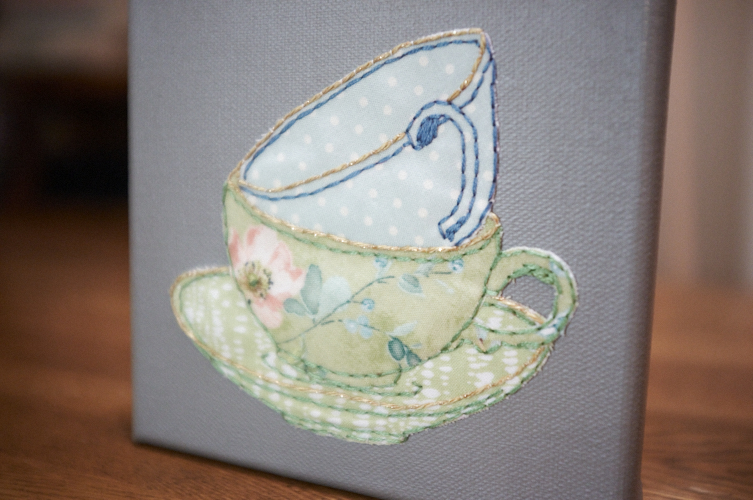 That said, I wanted to play with the tea cup idea further, but began without a plan (as I too often do). I made a larger stack but I don't like the proportions of cups to canvas here. I toyed around with adding some 3D elements like butterflies cut from an old book (pinned temporarily). And, in serendipitous timing, my brother sent me the worm sticker, from Labyrinth, which is also just pinned. I thought about adding text "Come inside, meet the missus" to go with it, but do I really want to make Labyrinth fan art? I don't know. It's just that I wanted to like it so much more than I do currently, and now I don't know where to go from here. So this is just sitting right where you see it, staring at me and waiting for "the finish" idea to materialize. Until then, I've got several other projects to think about.