It has begun: I've started piecing flowers for my Hexie Dreams quilt – not because I want to do a flower design, but because I believe this will probably be the easiest way to handle such a project. I made a pillow, once, making strips. It worked fine, and was easier to stitch with a single running thread (rather than the paths taken for a flower), but for a quilt, I think it would become a bit unwieldily as I work through all the hexies. Plus, these flowers fit perfectly in the basket I've been using for this project; the hexies have since been moved to boxes.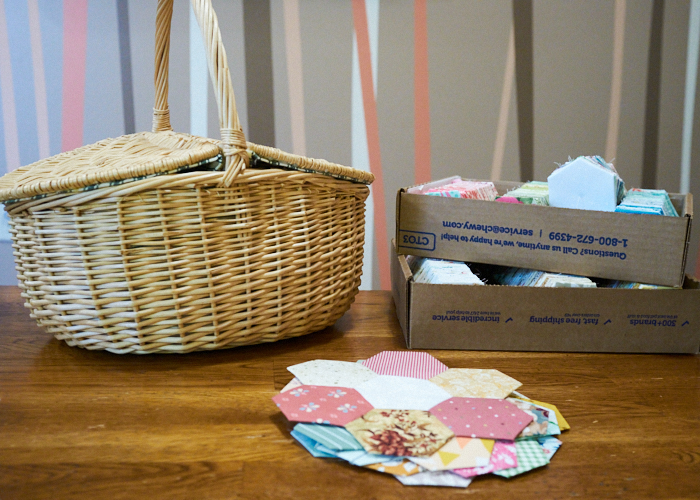 Let me go on a sideliner here: Incidentally, I often joke that I was a cat in another life, between the love of naps, sunshine, and cardboard boxes. These boxes come with Chewy orders for wet catfood, and I use them to organize all my ongoing projects. I have about four or five in use at the moment in addition to these two.
I have a few larger ones, too, which I have painted and stenciled since they sit out in view more often than not. You see, I am attempting to find a way to tone down the chaos that happens when I create complicated things with lots of different supplies. For my immediate project, I toss everything I may use in the "Working Box". Then, I have a "Returns Box" for items that I end up not using or have finished with during the project. And, most importantly, new projects don't get started until the Returns Box is empty… or rather, that is the idea, anyway . . .  I do seem to be spiraling out of control with open projects, oi!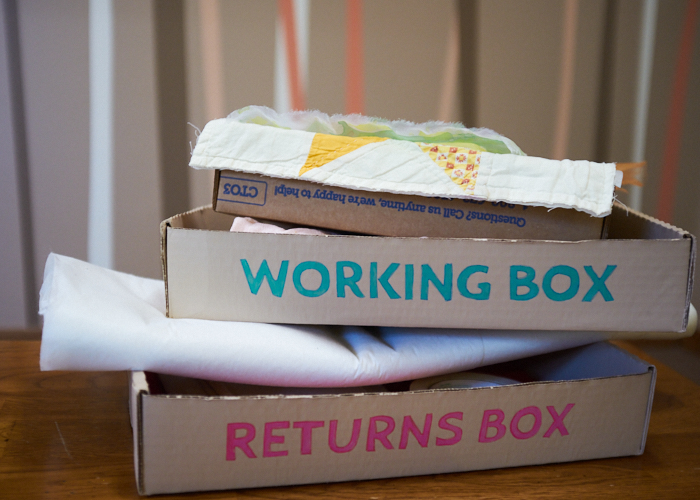 Back to the Hexie Dreams quilt: how have I reconciled my OCD self with the time I hope it actually takes to make a quilt top (by the end of the year) and desire for a scrappy unplanned look? Well, I've opted to start with a table of colors so that I can select any two colors per flower. Pink with teal, pink with blue, pink with green, and so on. I reckon as long as these two colors match well enough, then the eye will travel pleasingly across the varying colors. I will work through all the color combinations with a white center, then (probably) change the center to be another color and repeat the process.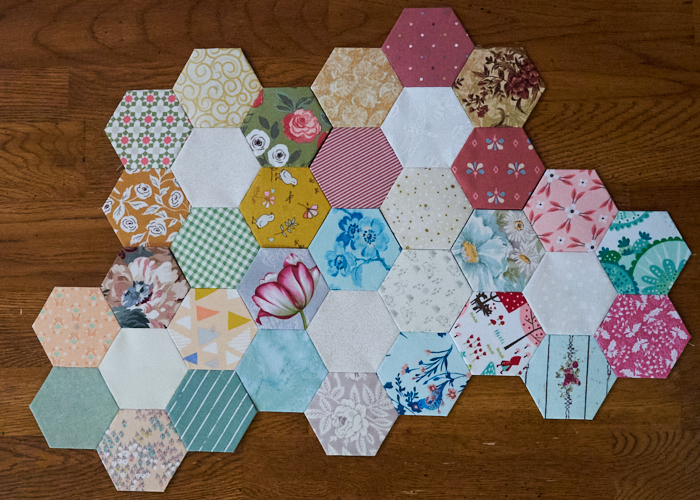 At the end, I will likely have leftovers that just have to be mishmashed together, too. I try not to be overly picky in the process. While I organized them into color groups, I shuffled them up decently and pick at random. This way, the overall quilt shouldn't read as organized flowers, but just a yummy jumbled mess of colors and patterns. I want it scrappy, after all!
My soft goal is to average one flower a day, so that by summer I can begin sewing the flowers together. It probably won't happen, but maybe saying it in print will help!