I made a little potted garden of mini felt cacti! I set out to make them for Boy's office, but then people caught wind and wanted some;) You might remember from last week's WIP post that I was using Delilah Iris's Cactus Plush pattern. I added bead melon's to some of the cacti, and tiny gravel to fill in the pots. Now also, one of these cacti is not like that others! The one on the left is from another generous blogger – Wool Felt by Benzie has a free Felt Cactus DIY pattern. I simply shrank it, adding embroidery to match the others.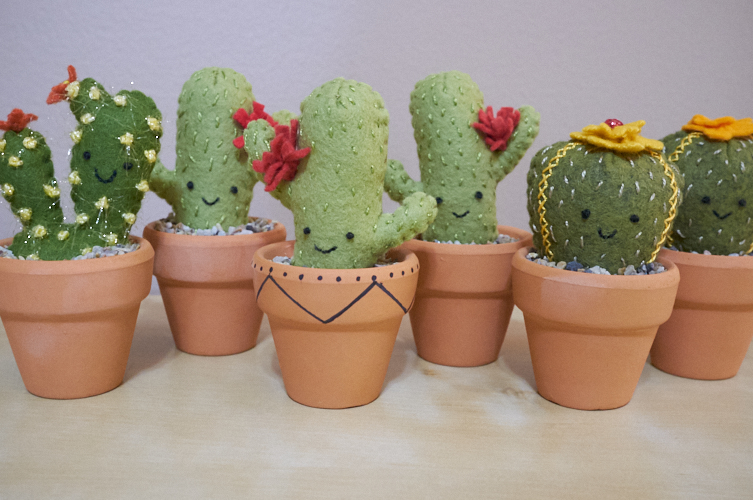 I first made this tall cactus. Then I made a second, and decorated the pot. Actually, I had to make two cacti, because I cut the felt out and then stitched two fronts (rather than flipping one around to stitch the back). That is why two are identical, but one is reversed! Ha! And then I had a request for them both, so I made a third and added a bead melon. I don't know anything about cacti, growing up at the edge of the Eastern woodlands and now living in the Great Lakes region. Maybe this kind of cactus doesn't grow melons. ¯\_(ツ)_/¯ And should the kawaii faces ever fall out of favor, any of these mini felt cacti can be turned around for a more "realistic" look. I chose not to decorate other pots – I like the idea (I only used a sharpie) but Boy wanted his plain, so after my experiment, plain I did.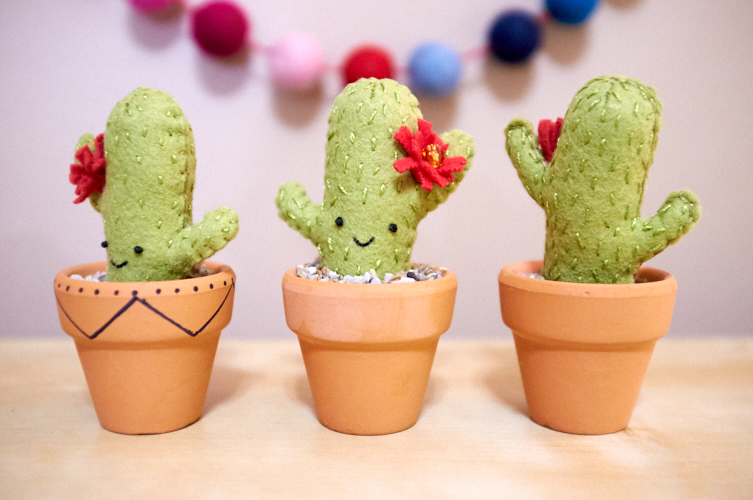 I made one of these prickly pear types, and stuck some french knots on top of my first go, but then changed that to a bead for the second. Maybe this kind actually has a melon, or pear, hence its name? I know; I could google these questions, but haven't yet.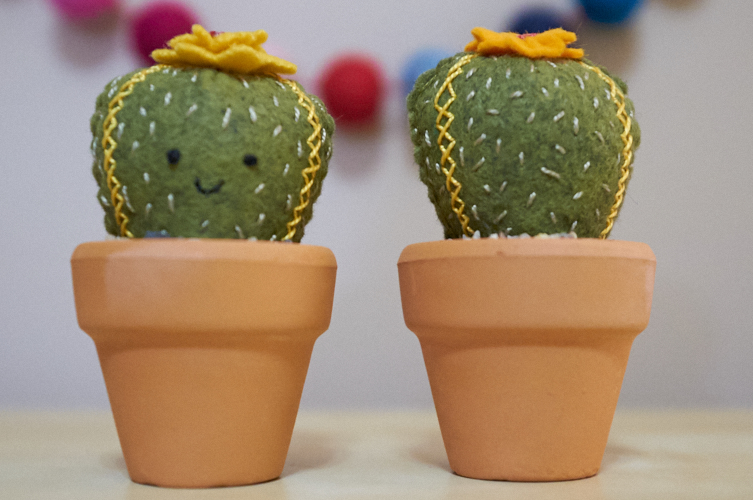 And then this cactus… I knew it would be Boy's favorite, and I was right! I printed the pattern at 50%. Rather than using glue dots as the pattern suggests, I made colonial knots from a specialty thread I picked up during my last work trip to Daniel Boone National Forest. Boy hated that thread when I first showed it to him, but he is eating his words now;)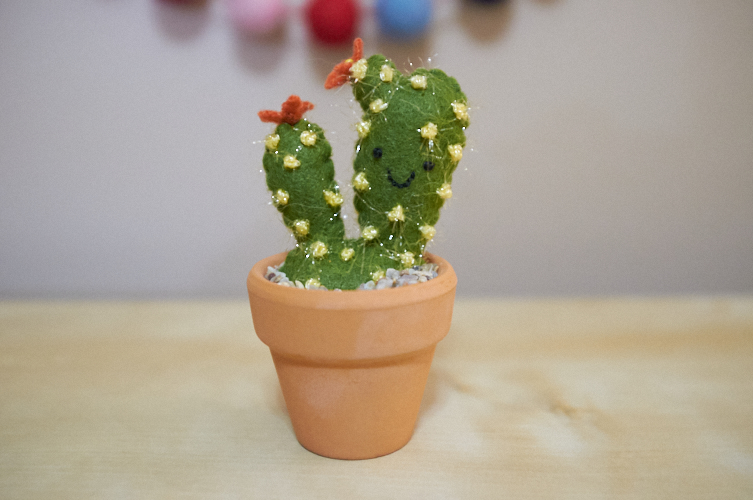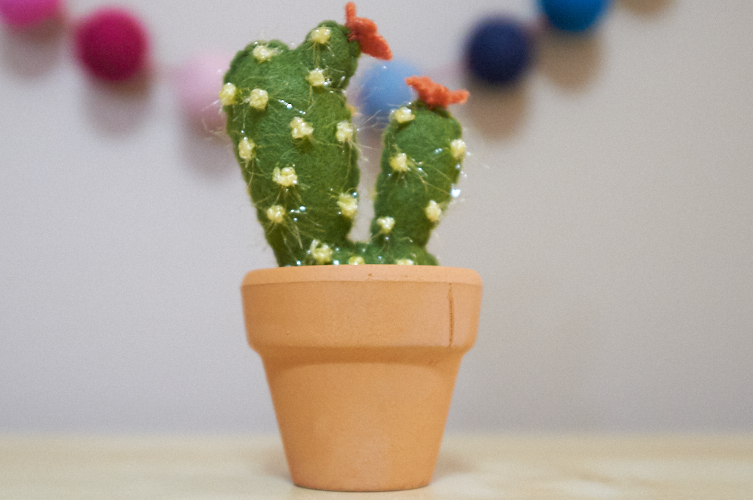 I think adding the gravel really makes these mini felt cacti fun. What do you think? And I also noted that while I made all the cacti bodies out of my Wool Felt Central felts, I made the last set of the three's flowers out of felt I got from Sue Spargo (remember my butterfly pillow?). I liked that felt much better for the flowers – maybe because the texture is slightly different and therefore stands out.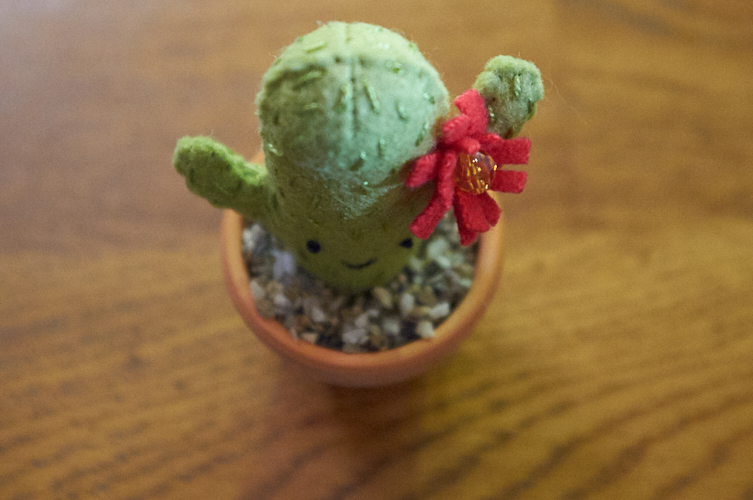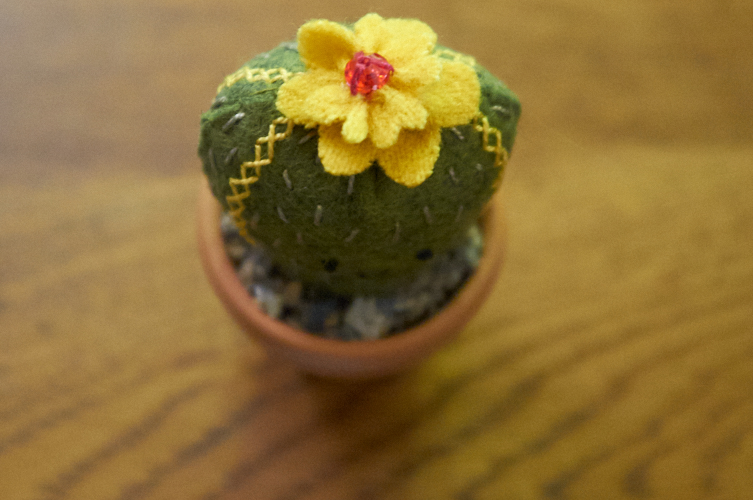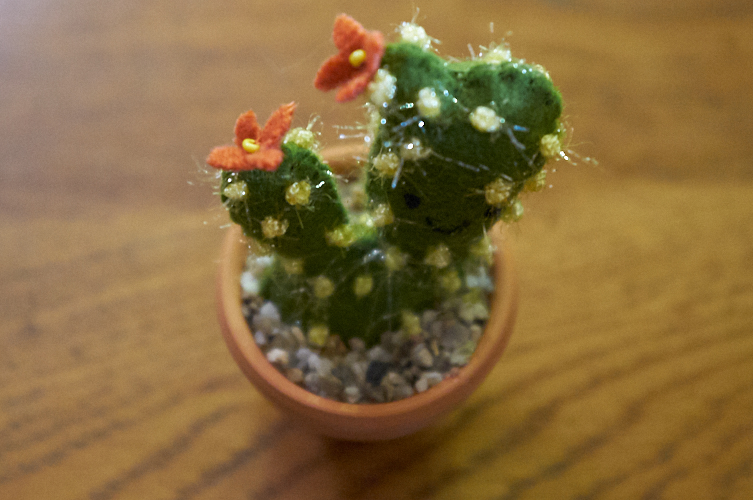 Now, these mini felt cacti are exactly that – quite small! Here, you can see me holding Boy's favorite: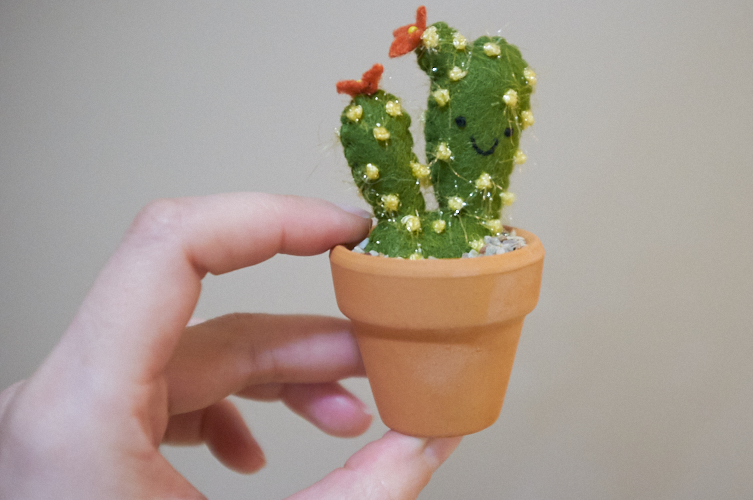 And here is a serendipitous shot of my cat for scale – she didn't want to cooperate for a cuter photo, but she sat there on her own just long enough for a snap before trying to knock them onto the ground. Cats.