As mentioned before, this is a pattern I picked up from the Illiana Shop Hop. It is from Lazy Girl Designs, and I see they have many little projects.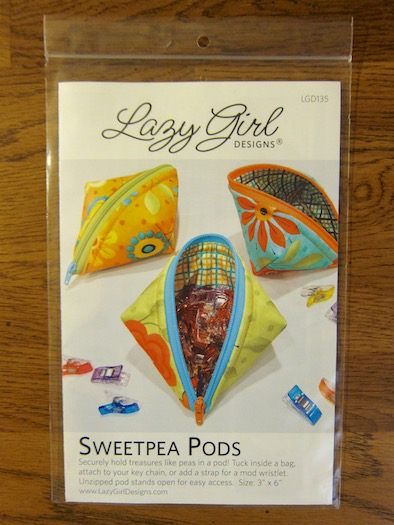 Being my first-ever zipper project, I was a little nervous – especially since the pattern says to practice! But I found it to be incredibly easy, so much so that I can actually tailor this to any size.
These are my first three; I need to find longer zippers elsewhere (and zipper pulls). None of them are the size the pattern called for – the only zipper selections at the shops were too short, so I simply cut my fabric down an inch for the first one (on the left). Then I wanted to use some of the freebie fabric I was given for the other two, and they were already pre-cut so I lost two inches on them.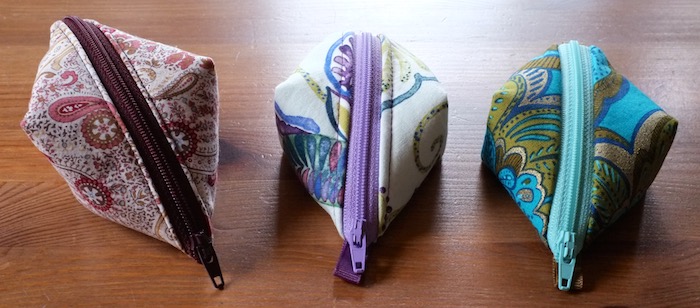 The pattern does not call for a little tab, but I found that it made it more convenient to zip up so on the second pouch (middle), I added a tag to help open it. Then it dawned on me that a tag on both ends would work even better so the third (right) pouch has two. I'll need to practice a little more with that as when I sewed everything together, the tabs aren't perfectly centered with the zipper. I also got better at the zigzag seal for the inner seams as I went along.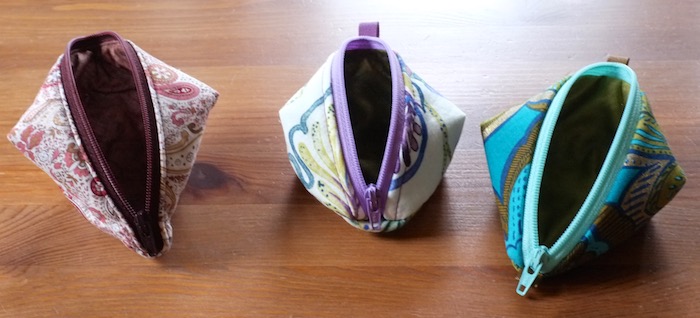 Just like in the photo on the pattern, I plan to make one to hold my new wonder clips (I gave all these away already). The pouches sit wide open, making them pretty handy for reaching in and tossing things back into. I look forward to making more!