On Boy's birthday last night, the cutest little kitten strayed onto his brother's patio and mewed her way into our hearts. She was starved and skinny, as well as a bit grungy looking, but we gave her some hotdog bits and some fresh water which really warmed her up to us. She was freezing and exhausted, and lost her voice by the end of the night. They let us keep her in their garage over night and this morning we picked her up to take her to the vet. Unfortunately she did not have a microchip and so we are using other means to try to locate her family. She's just too sweet and lovable to be a feral cat. Now she is living in our garage but she really tries to get in the house (although my girls have made it completely clear that they are not interested in sharing).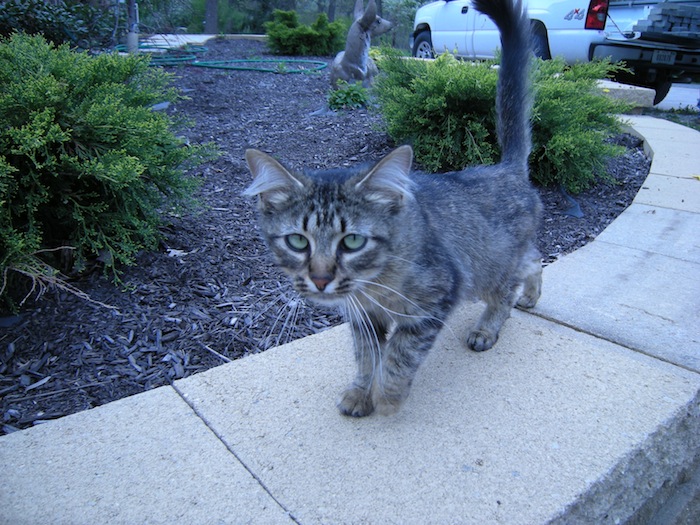 We do not want a third cat and I am so worried about her getting hit by a car or attacked by a local dog or the crazy raccoons that I don't feel comfortable with her being our outdoor cat. Boy won't listen to me and keep her as his office cat. So….who knows what we will do with her, but I did find an no-kill shelter that seems to be a good fit if I can't find anyone.
For now I am calling her Midna, which is a character from one of the Legend of Zelda games, and we found her roughly at midnight. She stands on her very tippy toes when you pet her, meows with her tongue out, and craves attention as much as Sasha, yet she is as docile as Maya. She lets me look at her teeth, ears, and eyes, and I could clip her nails too if I cared to (I assume since she is outside I should leave them sharp). She doesn't shed but she's young yet (I am guessing under one year).
Hopefully she isn't already pregnant…