You might recall that a friend of mine stamped up some fabric scraps for me a while back (one of which I've turned into a pin), and I explored this idea again with a tea kettle stamp. I completely forgot to snap a photo before gifting it away, but my friend took one for me: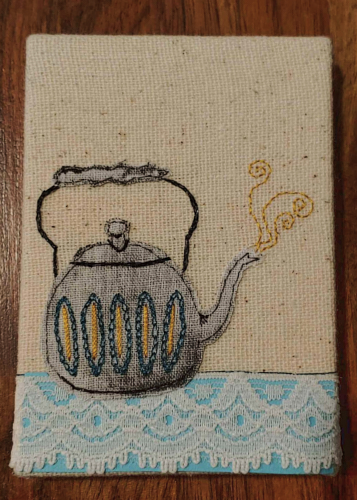 For the background, I used a neutral slightly open-weave fabric wrapped around a tiny art canvas (I think this is maybe 2″ x 3″, but I didn't measure it). For the tea kettle, I used one of her stamped images, though I flipped the fabric over to its reversed side to look more metallic rather than flat black. I especially liked how the ink soaked through a little more – and unevenly – along the bottom, representing maybe some soot from the stove burner. It is outlined in a thin krenik thread, with a little detail added to the curve of the spout. I used a slightly thicker black metallic thread for the handle and lid details with stem stitch. The decoration of the kettle is made with teeny tiny chain stitches in a deep teal blue, with a single straight stitch (double threaded) in each motif of a gold silk thread. I finished it off with the same silk thread to make up the steam using tiny backstitches (single thread).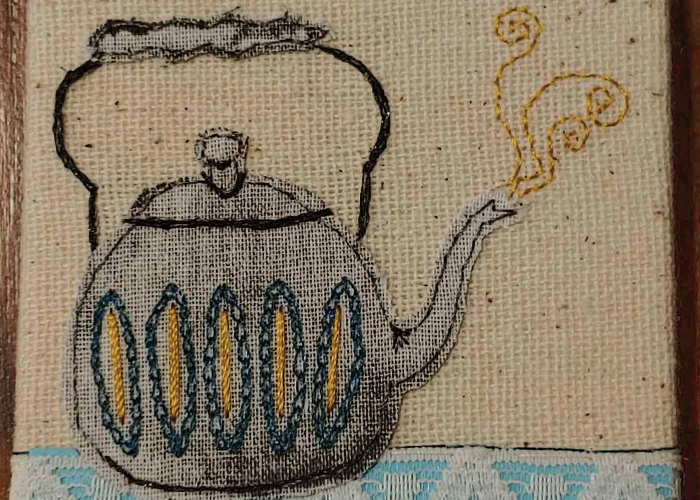 The blue thread was used again to outline the table edge, which was made with a small strip of lace tacked down only at the top. I inserted a slip of paper beneath the lace for some color – and I told me friend this was exchangeable in case she wanted to use a different color, depending on where this little canvas wound up. At this scale, you can see it slipped up a little above the lace there on the left while in transit with the mail, but this is totally adjustable. The paper fits fairly snugly under the lace, but a drop of glue wouldn't be a problem to add if needed. If I did this little trick again, I'd just make sure there was another stitch on the lace that'd prevent the paper slipping upward. Easy peasy!
This project led me to buying more canvases, though not the kind mounted to wood (just the flat kind, which are much cheaper). I always struggle when I get to the end of a project without a planned way to finish it off, which often gets me in trouble without having many cheap options for frames and such. This project began with the canvas, and it made the finish a breeze. I purchased a set of four different canvas sizes, and will start with one of these sizes in mind more often. In fact, I already have a work-in-progress on one of them that I hope to highlight here soon. More on that (also tea-related!) project when it's ready!