[I am following Anne Brooke's 2021 #52tagshannemade slow stitch challenge to make a little tag every week of the year – see them all here!] As our last tag*, Anne had us make little trees. Funnily enough, she used a similar technique I did for my tassel tag. So as to not do the same idea over, I chose strips of fabric rather than string, and tied knots rather than loop them together. (*Anne realized there is still yet one Friday to go, but hasn't announced the plans yet.)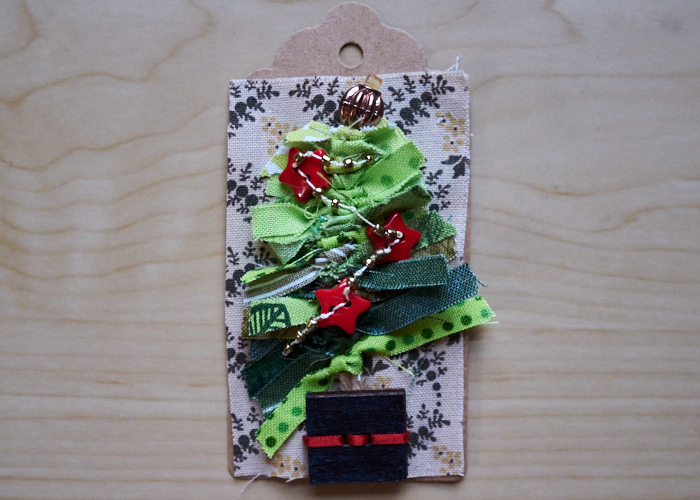 I topped the tree off with some small red buttons and a string of garland made with knots and beads. The topper is made with a large and small bead, and the pot is a wood button I painted black, attached with red silk ribbon. The tree is wonky, which I kind of like, but I do wish I had alternated how I tied the knots so that it wouldn't lean so strongly. Stitch and learn!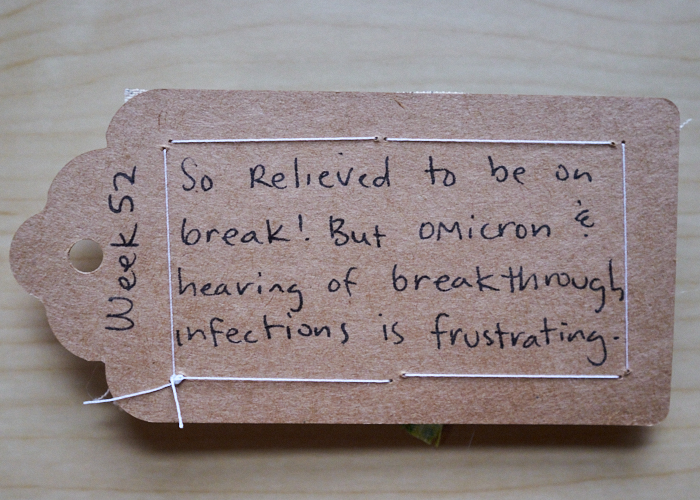 As previously mentioned, I was so looking forward to this winter break. It's finally here!! We could all do without the impending doom of the oncoming covid surges, though. Stories of breakthrough infections are starting to become less abstract and more real as I learn of people I actually know who've experienced it. At least the cases aren't severe, but I just don't want to be sick, and I certainly don't want to contribute to its spread. Luckily, the hermit life is for me already.
Check it my completed tag challenge in its full delight below! Doing this project all year long taught me a few things. Notably, I gained insight to the fact that I really like certain color sets and fabric layouts or textures – ergo, I do have a style! And, while I was creating the 52 Tags Hannemade Subgallery for these these, I realized that I finally broke out of "perfection" style with neat even stitches and neat even fabric cuts. If you compare the earlier ones – even if I attempted to get a frayed edge – they are very uptight compared to the later variety when I really tried to get that disheveled look more natural feeling.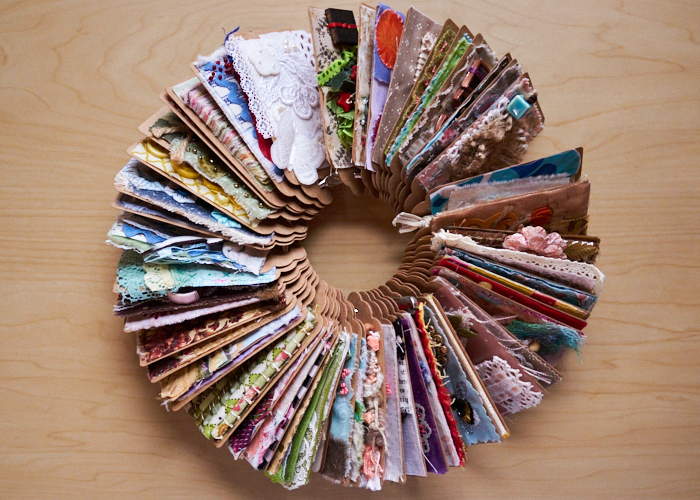 I am stoked that I was able to finish this monthly challenge – mostly on time, even! (A big thank you to Anne!!) Now, I did not meet my personal challenge for my Hexie Dreams quilt, but that's alright. I have a feeling 2022 is going to be a splendid year with plenty of space in my schedule to create.
Fingers crossed! 😀