[I am following Anne Brooke's 2021 #52tagshannemade slow stitch challenge to make a little tag every week of the year – see them all here!] This week, Anne prompted us to "grab a cuppa" and everyone who knows me knows I love tea!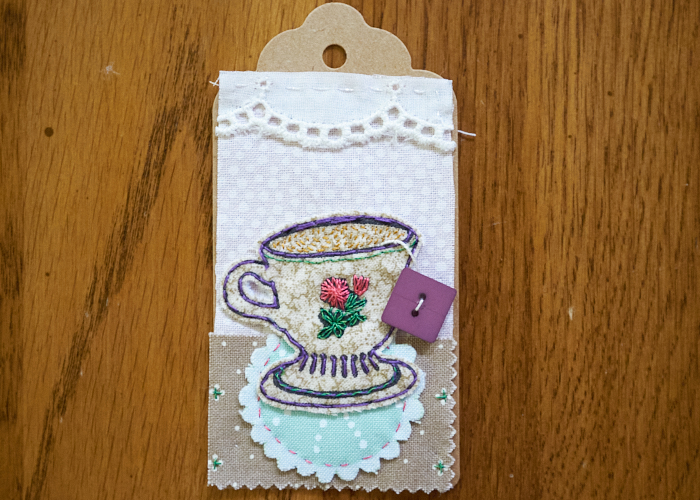 I was very excited this week, in fact, because I had just asked my friend to stamp some odd fabric bits for me as an experiment and I was itching to do something with them. We both love tea, so it did not surprise me at all that she had a tea cup thrown in the mix. Actually, she had two, and you'll see what I did with the other one in an upcoming post. (I am tragically behind, so bare with me!)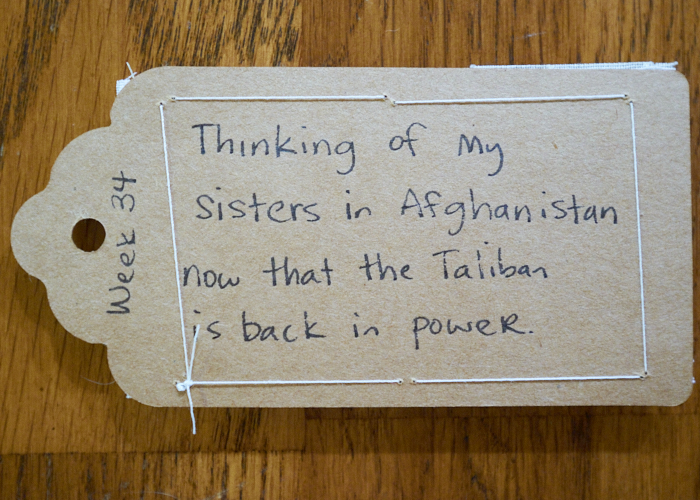 While the stitching theme made me happy, I was saddened this week to see Afghanistan return to Taliban rule. The women there were making such progress in equality; it breaks my heart to know they will be forced backward. I was even more disheartened when I read this post, at The Embroiderer's Story, about the Afghani Robotics Team. The news reports the following week suggests many of the girls have been rescued, thankfully, but it must be such a painful time for Afghani communities.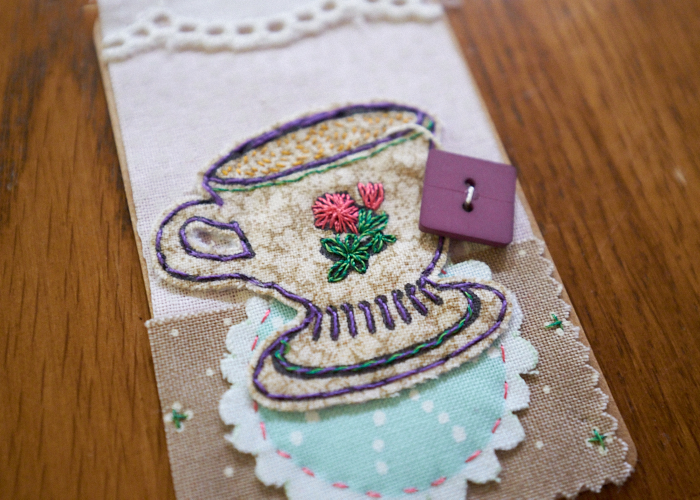 On a brighter note, let's talk about how I stitched this one up. I fused the scrap to some interfacing, then stitched backstitches along the stamped image (and whipped one row), mixed some lazy daisy shapes for the floral design, added a swirl of straight stitches for the tea, and finally cut the tea cup out. Then I added a short bit of perle cotton tied to a small square button as the "tea bag". It rests on a "doily" made from a fussy-cut shape with decorate straight stitching. The tea cup rests on a "table" attached with small cross stitches. Above it all is a lacy "curtain".