[I am following Anne Brooke's 2021 #52tagshannemade slow stitch challenge to make a little tag every week of the year – see them all here!] Anne focuses on a stitch every fourth week, so this last week was about the French Knot, Pistol Stitch, and Bullion Knots – all made pretty much the same way. Now, I normally opt for colonial knots over French knots, but I stuck with her design since it has been a while. And I really have very little practice with bullion knots so I enjoyed getting to add them.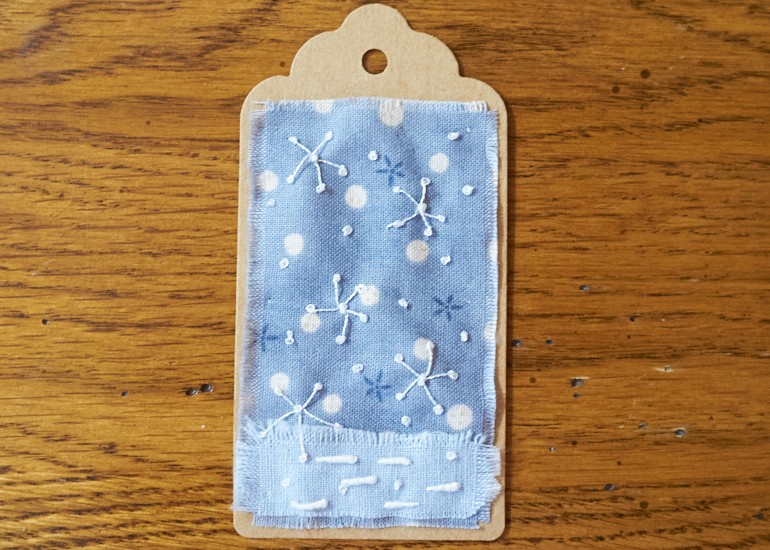 A while back, Tricia at The Embroiderer's Story ran a holiday giveaway and I won something! She sent me a skein of white light effects, which I hadn't used before. It was a wee bit temperamental in this type of application, but I managed (though I used sulky petite for the bullion knots). She also sent along some flyers that I will take with me to the next guild meeting. She teaches a few courses, and I started following her when I stumbled upon this particular one, The Cabinet of Curiosities.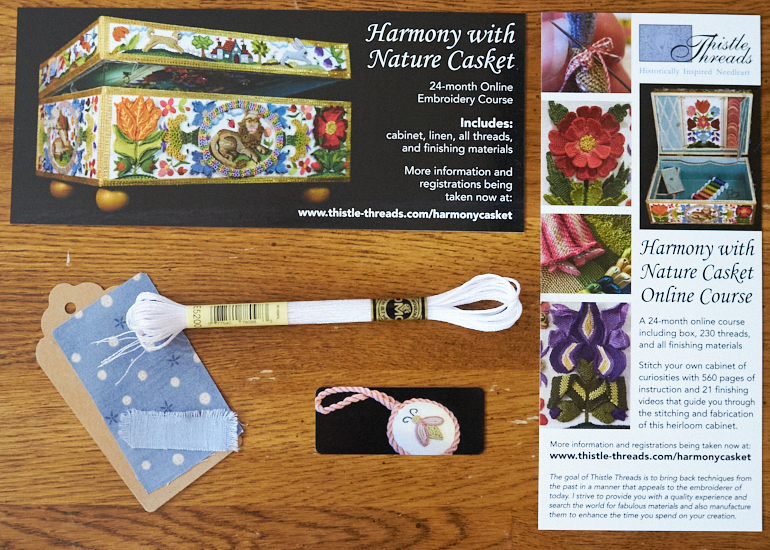 So, anyway, snow. That was my theme, again. After last week, we got even more, nearing just at 20″ where there wasn't any drifts. It might have broken a record here, I don't know, but it did in Chicago. And then of course, there is Texas; shame on too many leaders there, but let me not get political here. (That seems to be getting harder these days, oi.)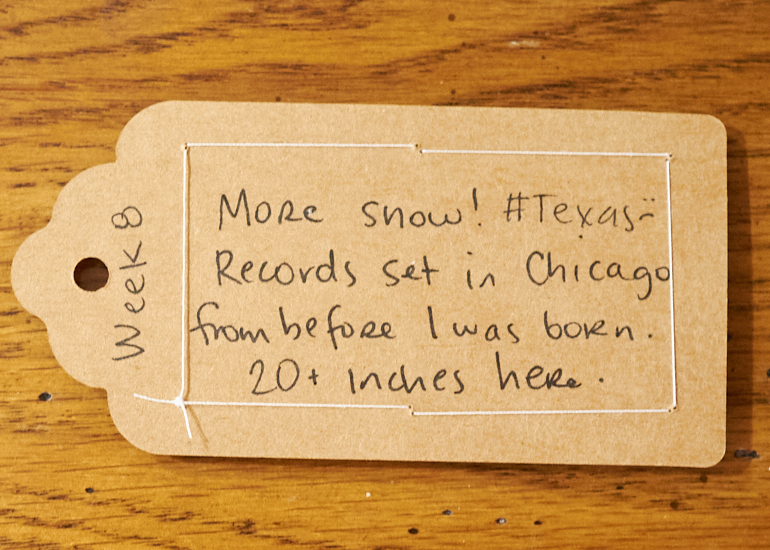 I added french knots and pistol stitches for the snow flakes, and then bullion knots for the little piles of snow. Doing this in hand, at such a small scale, made it rather difficult to keep my tension even. But, I actually like the effect, as I think it adds to it. I also tried to "age" the fabric a bit, by using the edge of a pair of scissors and tugging the edge of the fabric, like you might curl a ribbon. It added some fuzz, but I still like the torn look better (the tiny scrap was already that size so too small to tear, and the bigger piece wouldn't tear).