TextileArtist.org's sixteenth workshop was hosted by Jodi Colella who is an installation artist working with fiber mediums. In her workshop, we were to create fabric charms that we could attach together to make wearable art, like a necklace.
I did not take this workshop that far, knowing I wouldn't wear them in such a way. Instead, I practiced the technique. I think this would make really fun brooches, so I may come back to this idea later on.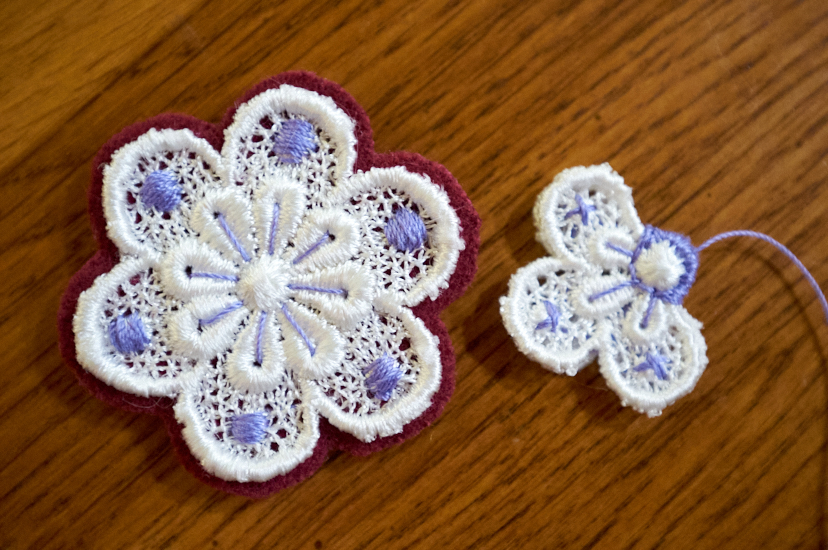 I also plan on making another zippered bag soon, and I want to see if this little petal one will work as a zipper pull. That could be another fun way to use Jodi's approach. I also think this method could make a really sweet garland, to drape across a window or a shelf, or anywhere you please.
I mentioned that in Stitch Club and was thrilled to see Jodi was excited about that idea – you can see her thoughts about it here. This workshop will now always be in the back of my mind when I pull fabrics and baubles out during future projects. I'll probably start a little bin, so that when I have down time, I can whip out some "charms". Thanks, Jodi!
And now this
Folks, I have finally caught up to all the crafts I missed posting about this summer whilst dealing with real life and a site redesign. I am also all caught up with the Stitch Club workshops that I want to participate in (you may have noticed, I did skip two along the way). The next one is still a week off, and I have more time to finish up other projects with their new schedule. Therefore, drumroll please…..
We are now back to our "irregularly" scheduled program! Thanks for playing! 🙂