TextileArtist.org's fourteenth workshop was hosted by Vinny Stapley. She works a lot with nature motifs and brought this interest to us in the workshop, which was to create a panel with a multiple-copies effect of a single plant. Since she uses what is in her landscape, I wanted to use something in mine. I thought about the area where I live and decided that the tall grass seen all around the dunes would be a good choice; I found this image in a search for sea oats and went with it.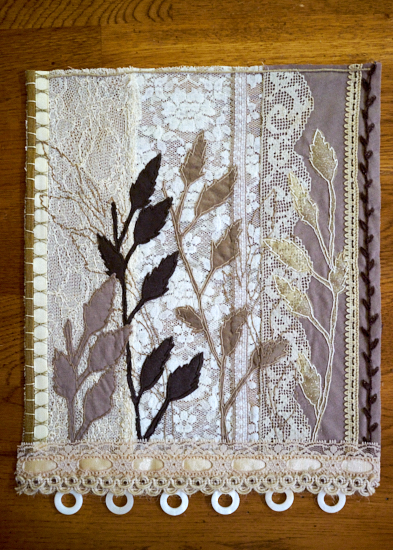 Originally, I wanted to create a background representing the beach and lake and sky. But along the way of digging through my stash, I opted to try my first foray into the world of strictly neutral color palette: only creams and beiges and browns were allowed.
I had a lovely piece of lacey vintage wedding gown in a custard color which I stitched next to a flat white lace folded in half to blur the floral motifs a bit. This was then stitched against a cut from the same tank top fabric I used in making Maya's portrait.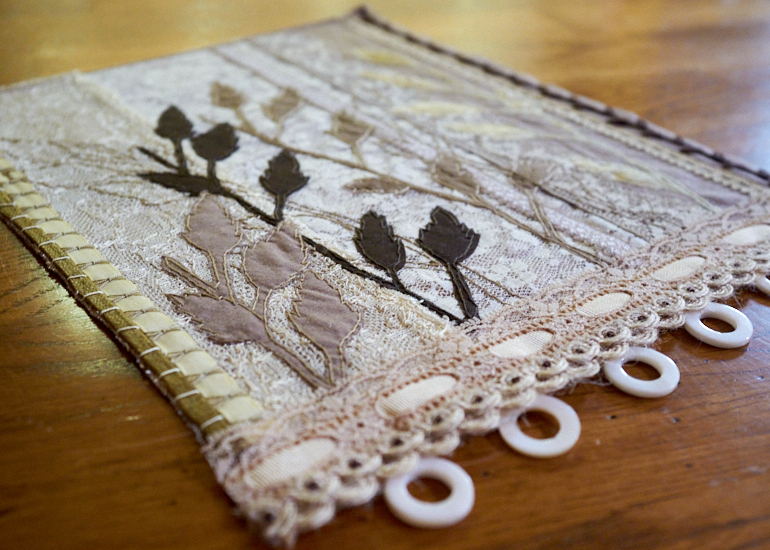 All of this was against a backdrop of painter's straining mesh I picked up at Menards. With Covid, I don't go shopping unless I have to so when I saw this mesh on clearance I snatched it up knowing it will still be a long while before I visit the likes of a craft store again. I wasn't sure it would work well, but it performed perfectly!
I added a strip of trim in a similar mushroom color against the white lace. I found this old yet beautiful hand-crafted scalloped trip that I added to the shirt fabric, just as I added a little strip of vintage trim, couched with a running stitch.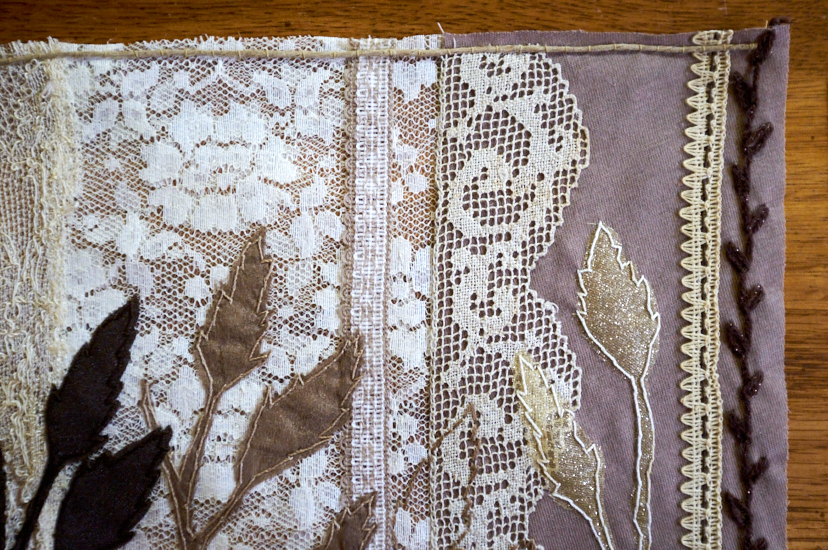 Next, I embroidered two grass stalks with floss. It was a bit difficult, since I could not trace the pattern onto the background. I had to pin my paper tracing and then stitch around it, but it came out just great!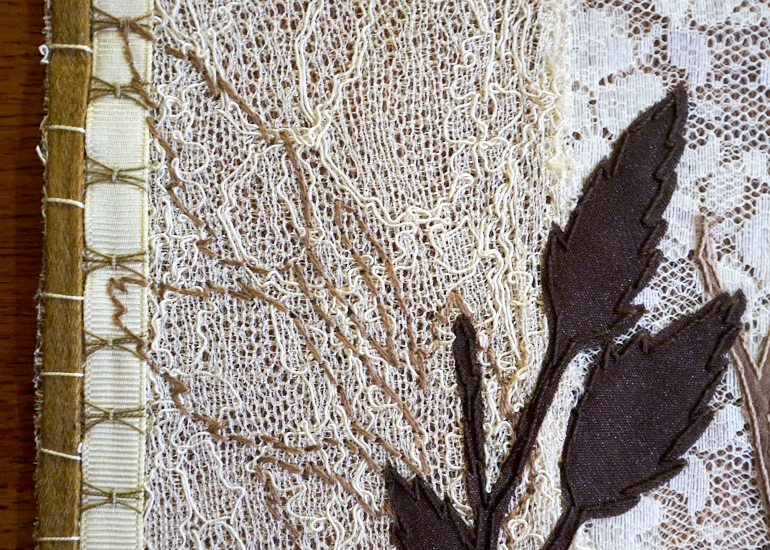 Then I added my four cut pieces – also incredibly fiddly to work with, being so small and such delicate fabrics. I tacked them down with a split backstitch kind of approach with Sulky petite threads.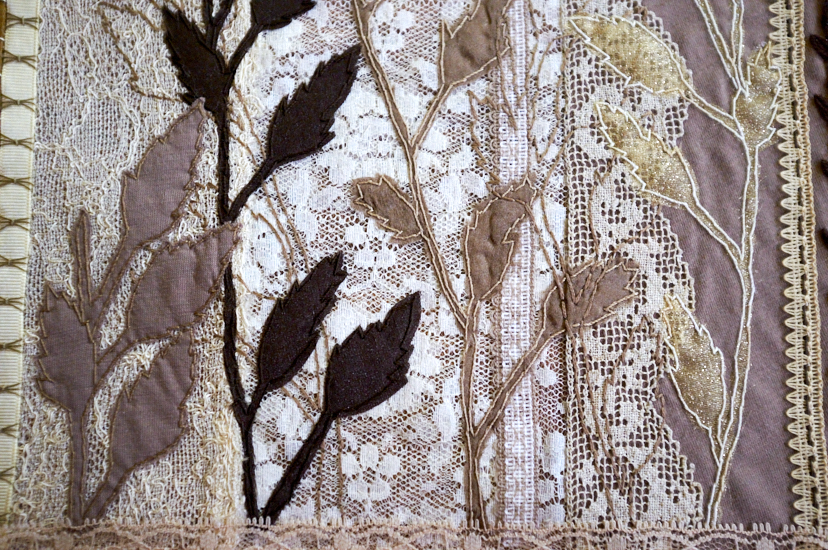 I needed a way to finish off the overall piece, so I dug through some trims. I put the heaviest along the bottom to ground it all, adding a second row of jute trim along the very bottom edge of the vintage cut. I added colonial knots in dark brown along the little humps and attached some shell rings at the bottom for an interesting effect.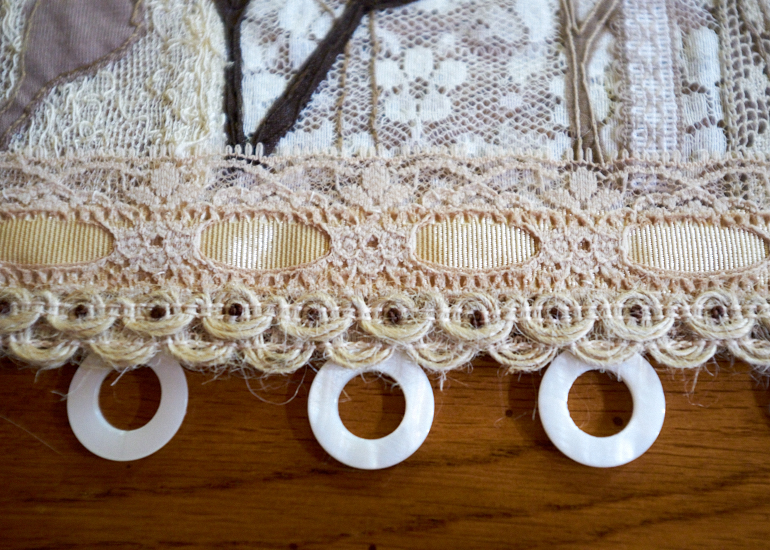 On the left, I couched down grosgrain ribbon with sheaf stitches next to a couched down flat ribbon from my scrapbooking stuff.
On the right, I added a chain feather stitch to try to pull in some more of the dark color found in one of the grass stalks.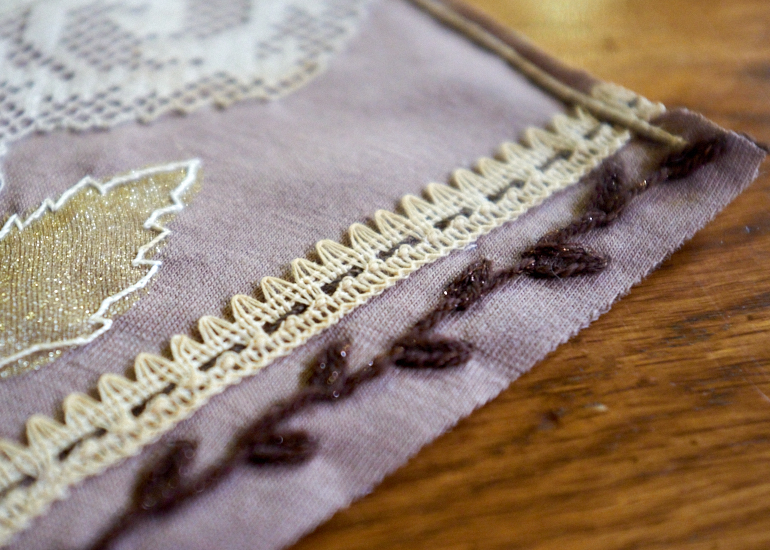 I had a big think about how to finish off the top. I did not want to "box in" the design so a noticeable horizontal strip of trim was off limits. I settled on a thin paper twine with simple couching.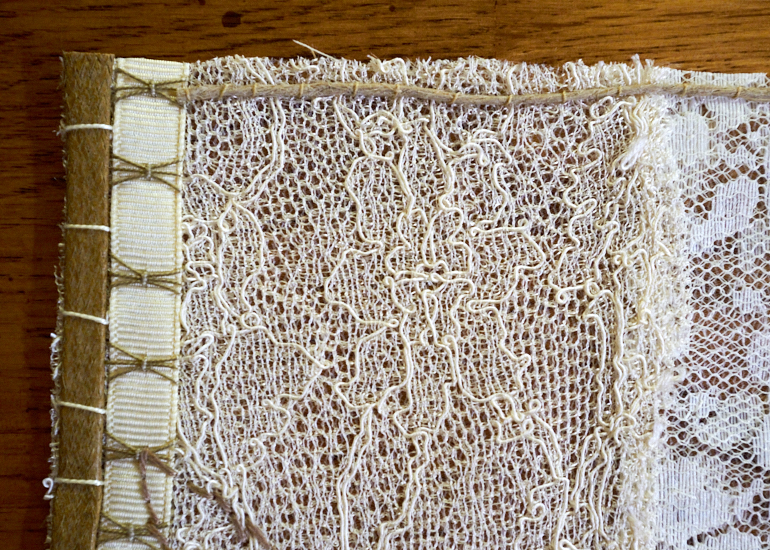 I am quite pleased with how this turned out. Now, what to do with it? Hmmm…