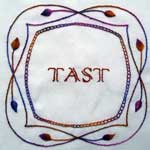 You've read about my idea for this here, right? Ok! See all completed TAST posts here.
I completed Sharon of Pintangle's 2018 TAST Challenge! I had one stitch left, #32 Buttonholed Herringbone. I simply dug out my Stitch #5 Herringbone pennant and changed one of the stitches to a buttonholed version. Ta-da:

I will post again about this TAST project since I still need to sew each pennant to some pretty fabric and make a long strip of bunting. I'm not sure when that will be – hand-sewing has my heart much more than machine stitching, but I do want to see this completed.
TAST was great – I challenged myself, explored stitches and color groups in ways I hadn't done before, and have a record of my work! I also have proof I could follow-through on a long-term craft project – and proof that I can prioritize a self-directed project solely for pleasure. My skills increased, my creativity is expanded, and my pride earned a notch because I did it!
I haven't possibly learned all there is to know about embroidery stitches, so I might look at 2019 TAST for new stitches in a different project, or I might try out Sharon's Beyond TAST Challenge (though I am not sure I am ready for that yet).
Looking back, I prefer the organic mash of the later Roundup pennants I made over the stiff formalized earlier versions. At the end, I had several stitches on backlog so I could pair up ones that complimented each other, which is why the numbers skip all over. I liked that approach, so I've toyed around with the idea of designing a sampler project someday also.
I am super glad Sharon releases a single stitch each week rather than a full list for the year. I think, as a newb, I would have felt so overwhelmed by them all, or maybe tried to skip some thinking they were easy and I'd get back to it the next week which was difficult to manage time-wise often enough as it was! I know this is why I haven't just sat down to make my own project starting with the first stitch in her dictionary or any of the books I have, and ending on the last.
That said, now I have the confidence and self-discipline to try something like that out!