Soooo long in the making, but I was stoked to finally ship Keeley, a comic in felt, off to her creator. I've posted about her here, here, and here, but here's the final piece!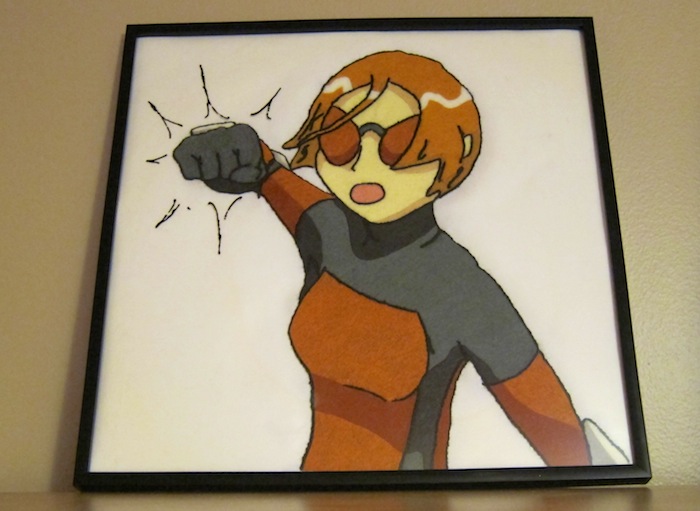 Also, I had a dilemma to solve – how to add her "pow" markings by her fist? I knew my embroidery skills were not up to the task. Then I had an epiphany – I could draw them on the plexiglass that frames her! I tried my favorite over-the-counter pen (Pilot's Precision V5) and a trusty sharpie, neither having the results I envisioned. Then I dug around my craft room and found black puffy paint. Bingo!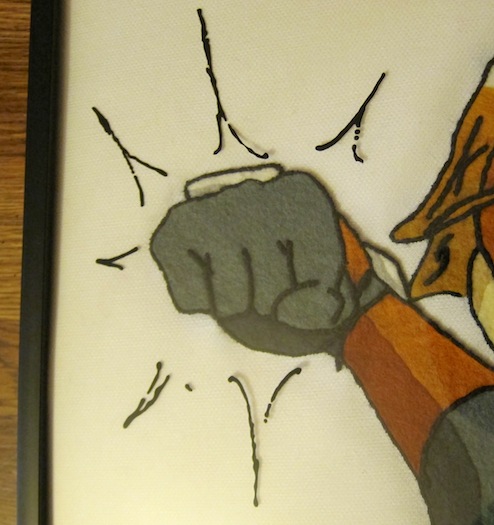 Keith blogged about her here, and you can see in the first shot that I had trouble getting her in the frame without bunching up the background. But under the right lights, that isn't noticeable. If I were to do it all over again, I would have a lot more structural planning. For this project, I just jumped right in. I had no plan on the outcome – I was relieved that it fit in a standard record frame, but that was utterly by accident. Without planning for how it would end up, I made due with what I had. And I would totally do this project again – Keeley is one of my favorite things I have ever done! I wish I had the skills Keith has; so many things could be rendered as a comic in felt!