My most favorite thing to scrap is travel. Loading the pages with mementos and such really stir the memories associated with them, and you can pick up so many things to use! Plus, they are great for showing others your vacations instead of just photo after photo after photo.
You  may have already seen some photos from this trip which I recently posted. In 2004, we went with our friend Jesse to San Juan, Puerto Rico over Halloween weekend. School must have gotten pretty busy because I still have a packet of things to scrap for this trip.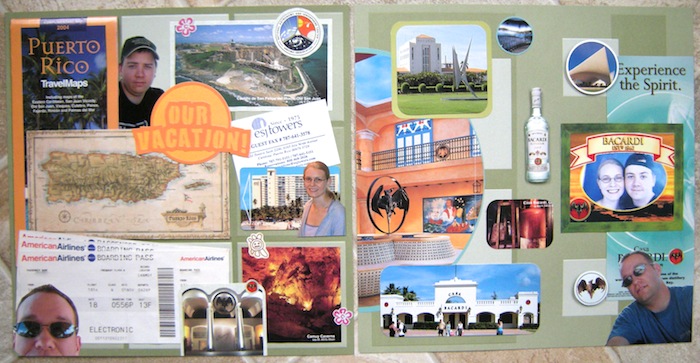 (I have these 9×18 inch envelopes which I take on my travels, collecting all kinds of things to scrap with. It is an awesome idea because then when I get home, I label the envelope(s) and set it aside until I can get to it. It keeps all my things organized and easily stashed away. Try it for yourself, it will amaze you, the simplicity of the idea!)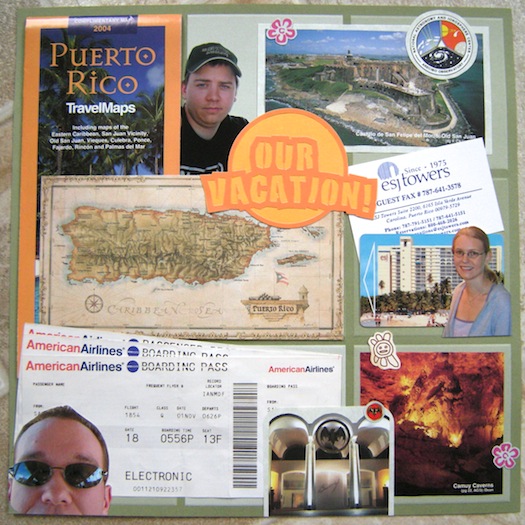 This spread tells the story of our arrival and plans to see Old San Juan and Camuy Caverns. It also showcases our Bicardi trip. I used a map, a postcard, the timeshare business card and room key, our boarding passes for the airline, and lots of things cut from brochures to spice it up. I also got crazy with cutting our photos. I bought one die-cut ("Our Vacation") and used some puffy tape squares to make some things pop off the page (unfortunately, this is kinda lost in the photo).