I have no crafts to speak of, nor photos to share, but after much delay in deciding our france trip, we have finally committed.
Our tickets were quite a bit more than originally budgeted for, but I hope to pick up an extra hour here and there at work before we fly. We leave September 9 (09/09/09 – how cool is that?!) and return on the 20th. Dang, thats a long time! I am really surprised this whole thing is happening because boy is quite the workaholic and doesnt like to even be gone for a Saturday-Sunday venture. His new employee is the catalyst for this change, and I hope it will continue in the future.
We also got a fun little rental car – a Citroen C3. Now I just need to square away a hotel reservation for the first few nights and the last night, as all else will be on the fly. Where are we going? Well I am glad you have asked!
I convinced boy of this other worldy venture by showing him Carcassonne. (We also have the board game.)
I cant go to places like this and not be anthropological, so I intend on visiting Lascaux and Les Eyzies.
Also on our quest will hopefully be the Pont du Gard and the Arena, along with the other Roman leftovers, near Nimes.
Basically, we will fly to Montpellier, travel north to the Sarlat-le-caneda area, come back through Carcassone and Narbonne, east to Nimes and the Provence area, and then back to Montpellier.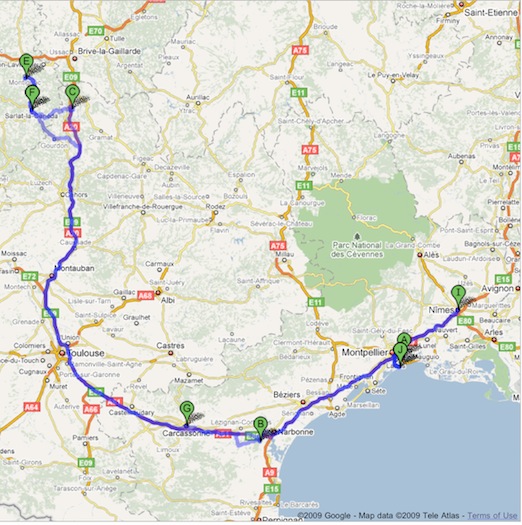 Theres a lot I would like to see, and the amount of time we have is not enough. First off, we are missing Paris and the Louvre. Second, Toulouse and the chemin de fauvism (my favorite being Kandinskys blue mountain – Ill have to upload a pic of a school project I made in its liking, once i move and unpack it). Verseille. He would like to see the Airbus operation, or the Large Hadron Collider. Theres much more to the east. And Id like to stay on the coast for a bit. Looks like well just have to plan another trip;)