This is a project i have been working on for a bit. I got the bird pattern from Spool Sewing.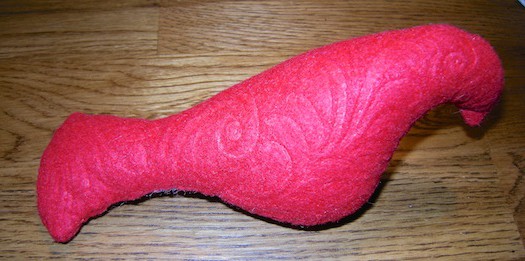 It was very easy to piece together by hand although I altered where the opening was for the stuffing because i had chosen very thick felt to use as the fabric so i needed something larger to turn it out.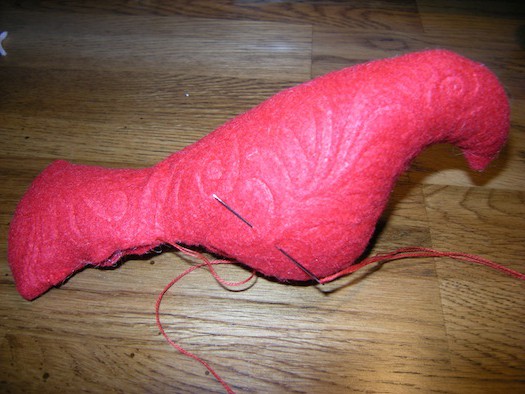 And my usual trick of using a teeny tiny crochet needle (12/1.00mm) to assist in turning out the smallest corners worked like a charm.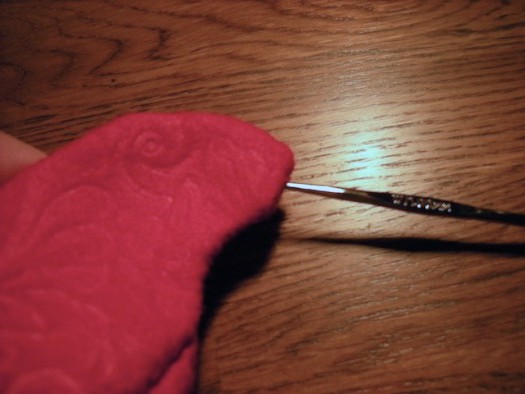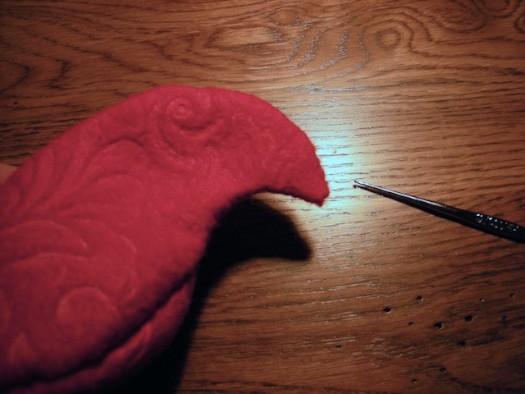 I also took boys suggestion and stuffed it extra full – i could have still added some in the tail area, but it was hard to do since thats where i left it open at. Originally, i thought that by using this cool fancy felt, it would be enough to have a cool fancy bird.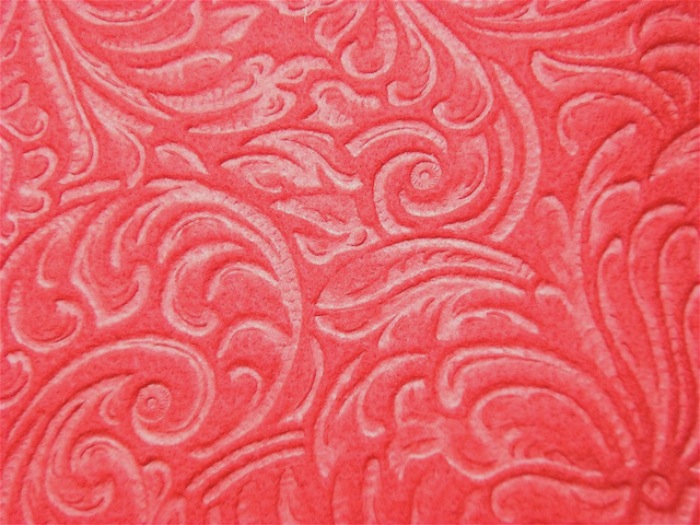 As it turns out, the more you work the felt, the image burnished onto it begins to fade. So my birdie was pretty blah.
I decided it would be cool to embroidery the pattern on the felt and chose black as a stark contrast to the solid red. I was excited because it really looked cool. However, the more i worked it, the pattern disappeared completely in parts, so some of the pattern was done free hand. Thats totally ok by me except i didnt really know how to tie it together. To me, it looks like a few different patterns on one bird, and I am still sorting out whether i like that look or not.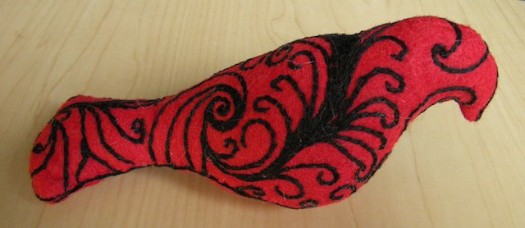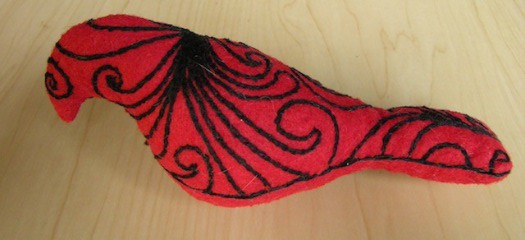 I felt that if I had continued the patterns to the bottom as well, something would be lost. So i ended the patterns at the seam line and needed to tidy it up so I chose to line the seamline with black. I think this look would equally be cool, if I had done black felt on the bottom.
I also started to trace the seam line with an actual stitch through the felt, here and there when I had extra thread but not enough to continue a pattern. At the end, i decided to use a full 6 strand rather than 3, and loop it around the stitch from the seam itself (red thread). So sometimes those two lines are separated visibly, but as my first of this kind – its awesome. 😛
It took me so long because my finger was sore from pushing and pulling the needle so i took some days off between to finish. Another drawback is using white stuffing because it does get pulled out here and there and looks like cat hair (i do have cats, but i am fortunate that they dont shed much). I need to look into ways to dye stuffing. Any ideas?