It has been a minute since I last posted about my Hexie Dreams quilt, and that is because I had to wait for new lines of fabric to be released since I needed just a wee bit more. Finally, that happened! (And let it be known that I had no idea this thing would be costing me so much. Note to self: if you ever make a scrappy quilt again, don't kill your wallet by refusing to repeat fabrics!) I apologize in advance for the dark photos; I snapped them on a very dreary day.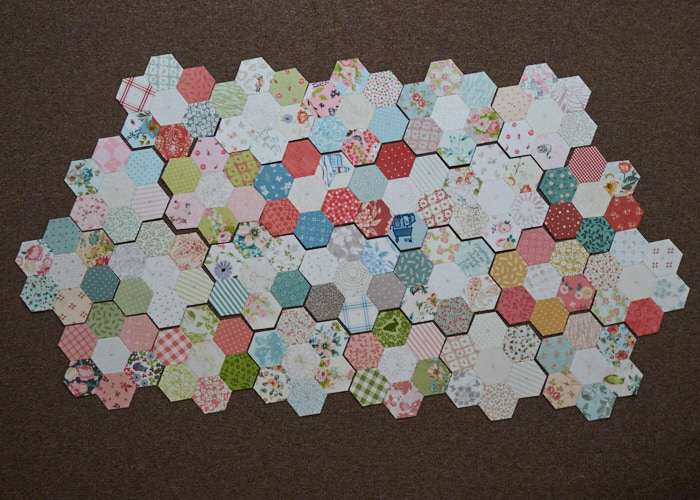 Technically, I should have waited til I found a few more so that I didn't repeat any collection on the same flower, but I don't want to wait any longer on getting this to the next stage (or pay any more money!). Besides, I am hopeful that the flowers are lost in the quilt so that they do not look like flowers but instead just a random collection of hexies. Plus, it is quite likely that the same collection will appear on adjacent flowers, so being picky about that now may be a moot point. These flowers include fabrics from Riley Blake's Fable by Jill Finley of Jillily Studio, At First Sight by Dani Mogstad, Portsmouth by Amy Smart, Gingham Gardens by My Mind's Eye, as well as Moda's Bliss by 3 Sisters, Cottage Linen Closet by brenda riddle designs (home of Acorn Quilts & Gift Company), and Mint Crush by Lisa Audit for Wilmington Prints. It also includes some batiks from my aunt's stash, and possibly a few other odd bits; I can't recall now since these have been in the queue for so long!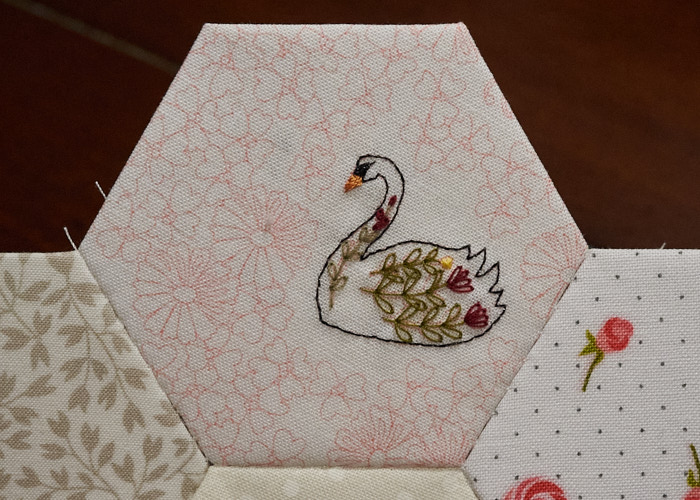 I decided to embroider one of them. The swan image and flowers were part of the print. I used quilter's cotton to add some color to it. I loved how dainty the embroidery is. You can get really small with quilter's cotton – I might have to see what else I can do with that once I put the quilt together. (Ok, CaLynn, let's not keep adding work here!)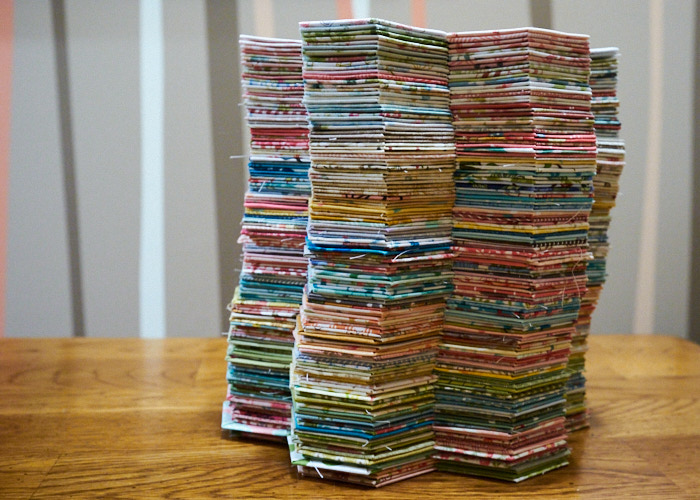 While I had made more hexies than will be included in this quilt, I have 131 flowers made, which means I've stitched at least 917 hexies. Whoa! (I donated the others to my SMIL since she's donated lots of scraps over the years and wants to try this technique.) I now only need to plan the order of hexies and get to stitching a quilt top! (Do I dare just stitch them together randomly? Unlikely! That just is not in my DNA.) My very optimistic goal is to have that ready by the end of May so I can pass it on to my grandma for hand quilting, but I feel like that's a pie in the sky I will not be tasting. I am willing to try, though!