It is fun to say that I was born in the 1900s, and one of the things we did as kids was paint miniatures. These are tiny statues, if you will, of people and monsters often associated with Dungeons & Dragons, but also for historic military dioramas or other gaming hobbies. Back in the day, ours was made of pewter (and probably lead before that); today they are in much higher detail and made of plastic. Anyway, Boy decided to get back into painting them and challenged me to a contest of skills. I can't say I was that good at it many moons ago, being as young as I was when introduced to the craft by my uncle, but over the years I have certainly developed other art skills. Boy, on the other hand, use to paint them fairly well, yet hadn't practiced art in ages. Who would win this duel? We were both confident it would be ourselves, of course.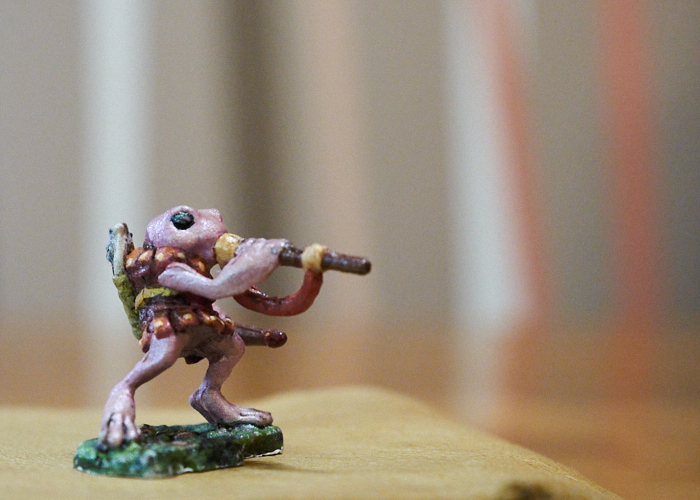 Boy selected a trio of pre-primed Grungs and bought a starter kit of acrylic paints by Vallejo. The image at the grung link shows very high detail, but the grey pre-primer removed a lot of it in reality (if it really is even there in the plastic). Plus, the seams are very noticeable. Boy has since bought minis from other companies, and currently his favorite is Reaper Bones USA, unprimed, which allows him to put only a very light layer of black primer so as not to lose the detail, and without the clunky seams.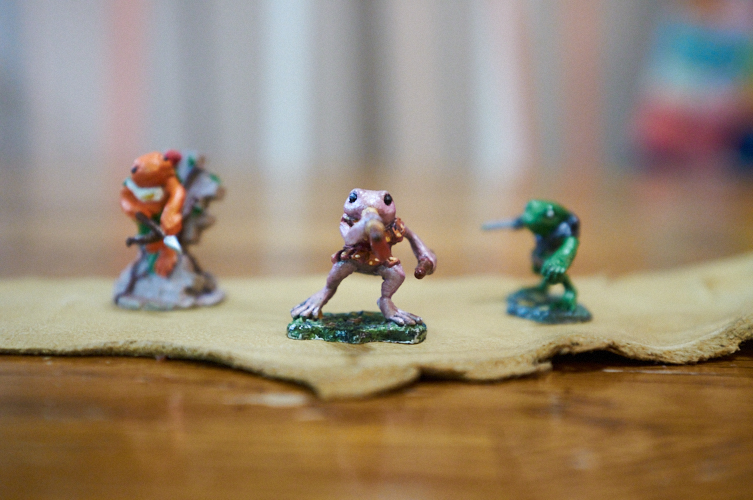 I painted the grung with the blowpipe. I like to envision the action and setting before I start painting, so my little grung is running through a forest, twisting as she runs, to dart something off to her right. She's carrying a case of more blow darts in her hand, and a bow and quiver of arrows on her back. She's in pretty formalized armor, to boot.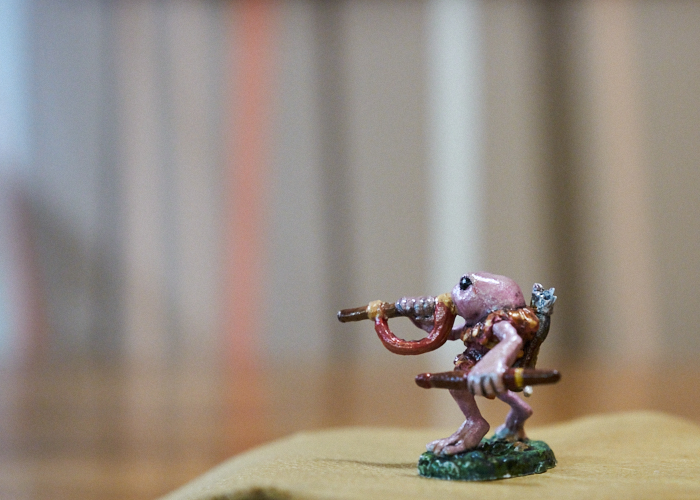 I mixed in a wee bit of metallic paint so her skin has a beautiful shimmer, though that isn't captured well by my photography. Most of her skin is shimmery with a very faint silver, but then I added a stronger golden touch to highlight her forehead, hands, and feet. You'll have to imagine that. I also added just enough silver to her black eyes so they shine.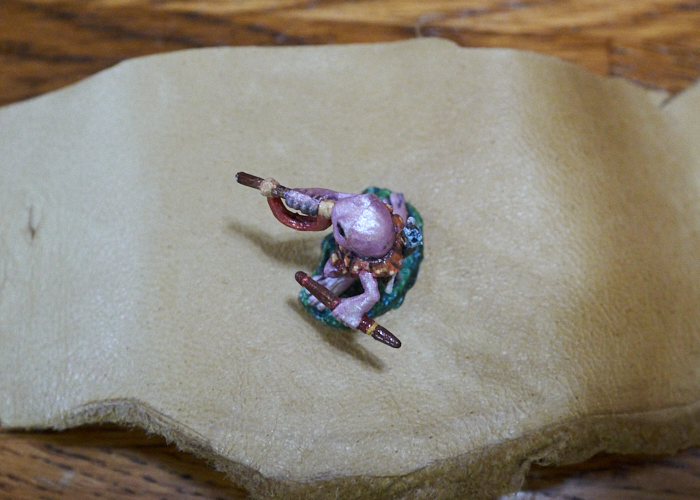 Boy painted the little green grung with a dagger and the orange one crouching on a vined wall, bow at the ready. It was this latter one that we really noticed a flaw in the pre-primer because it was so difficult to tell what was skin versus armor. Plus, the arrow was bent (a problem often with pewter minis, through they could be straightened out unlike plastic; of course, pewter also breaks, unlike plastic…)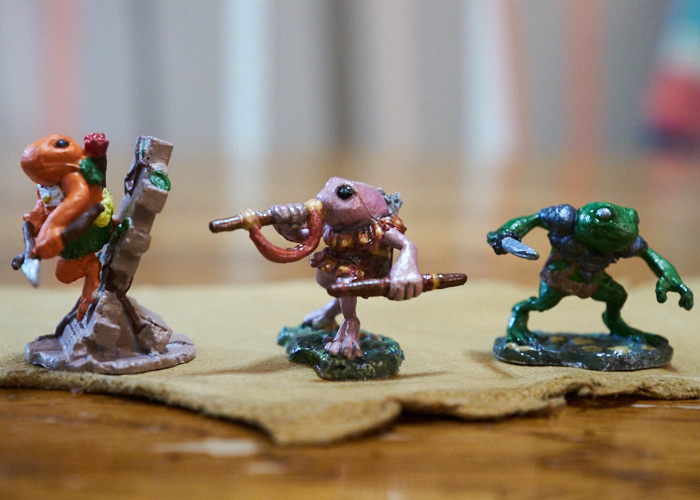 Boy's learning about color theory with mixing paints (knowledge I apparently take fully for granted), and I'm learning that the days of needing cheater glasses are approaching. Wah wah. Boy uses a lighted magnifying glass I bought for a stitching project way back when. I mean, look at this iphone pic I took before completely finishing: these things are smol.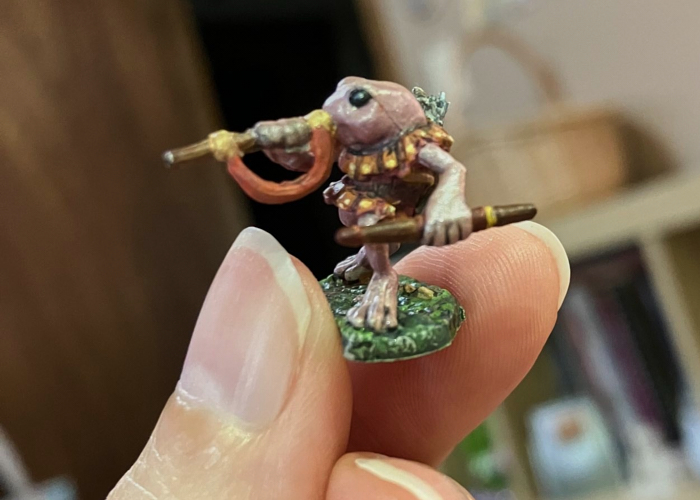 We both agree that I won the painting contest as far as skill goes, but after I painted this one, I wasn't really feeling up to any more as I had predicted. Like any painting I've done, while I may be good at it, I just don't like it. (But why?! … ) So, I give Boy the trophy, since he really loves painting them. Determination and motivation are harder skills to obtain than hand dexterity, after all!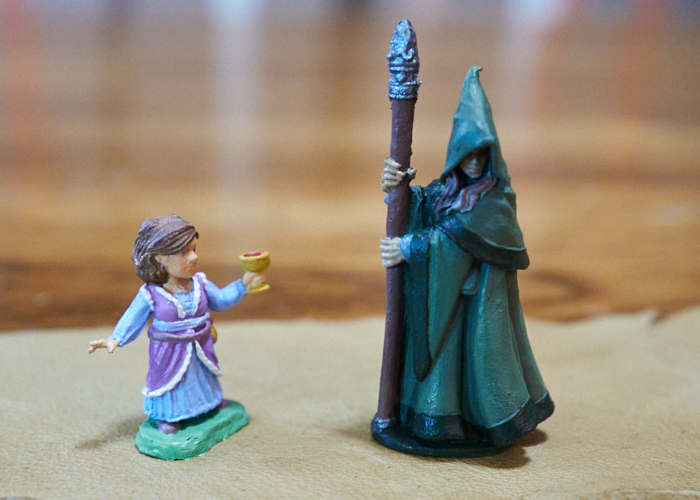 The little hobbit girl is from a set with a baby dragon that Boy hasn't finished yet (I started the dragon and abandoned it in favor of other projects, realizing once again that painting isn't my jam). The mage is from Reaper Bones USA, and is definitely a nicer mini. These two, plus the orange grung, are still a little bit in progress but finished enough that I wanted to showcase them here. Boy's so into it that I think I will have to give him a little corner of my craft room! 😀