TextileArtist.org's eighth workshop was hosted by Haf Weighton. She's probably best known for her architectural pieces, but in our workshop she wanted us to focus on the theme of "Get Well" – again, either because of Covid, or the social unrest, or a personal reason. We were to think of a way to present that theme using text (a single word or three) and fabric collage. The end result was to be a medal, a pin one could wear. But when I saw the circular shape, I wanted to put my medal onto a bark-on-wood coaster my friend had given me. And in fact, I had four of those, so I went ahead and made a whole set of medallions.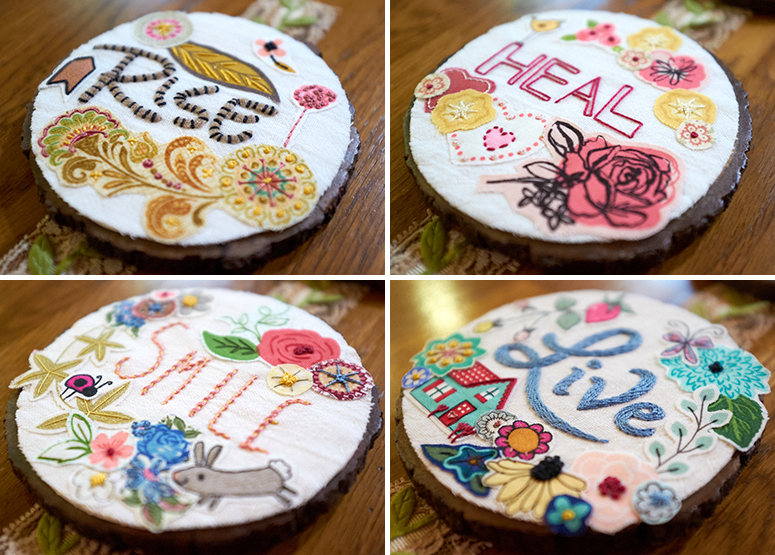 I wanted to keep the medallions together, as one set, rather than four separate ones. So, I had to think about four words that would relate to the theme of getting well, that would make sense in a string (almost like a sentence). A well-known concept in cultural anthropology is Arnold Van Gennep's rites of passage. Let me derail from the art here for a second and explain that quickly.
Anthropological tangent:
In main stream America, we may not think that we have any such rites, but in fact we have many. A great example is a wedding. Two people first exist in society as individuals. There are expectations of them that have been well established across the course of their lives. When they become engaged, there are slightly different sets of expectations. And when they are married, even more so, compared to their single counterparts. These events are transitioned by rites – the proposal separates a "dating" couple from "engaged" fiancés; the wedding separates "single" individuals to a "married couple".
Looking more closely: on the day of the wedding, two people are considered separate in the morning, and bound together as one by the evening, with all the rites of passage between existences occurring in whatever wedding culture taking place. First, they (and their guests) are physically removed (separated) from the rest of society – the bride isn't even to be seen! Expectations change: they wouldn't be expected to be at work on their wedding day, for instance. Then comes the stage of liminality – the inbetween stage. Not yet married and united as one, but no longer quite separate either. Expectations change again: weddings are generally more dignified, with special rules of etiquette in place than in normal day-to-day society, and everyone's focus is on the pair. This is marked by special clothing, ceremonies, and other expectations of behavior. Once the ceremony ends, the couple transitions eventually back into society, with new identities, new expectations. This last phase is the stage of incorporation.
Rise:
That is how I decided to link my medallions, by portraying the different phases of "getting well". In order to be well, you must first want to be well: you must rise to the occasion, rise out of bed, rise out of the muck and accept help, or simply rise to face the coming day. Healing begins within, however you want to think of it.
I tried to use vertically charged snips as part of the collage, but sparsely, compared to other medallions. This is when you're most frail, maybe you've lost a bit of yourself. Maybe you feel broken, or disconnected. Maybe you feel held down by depression or injustice. That last is why I chose to couch the word in black, to physically hold it in place by something dark. But the font style I chose is bold; it's real; it's got energy waiting to be released.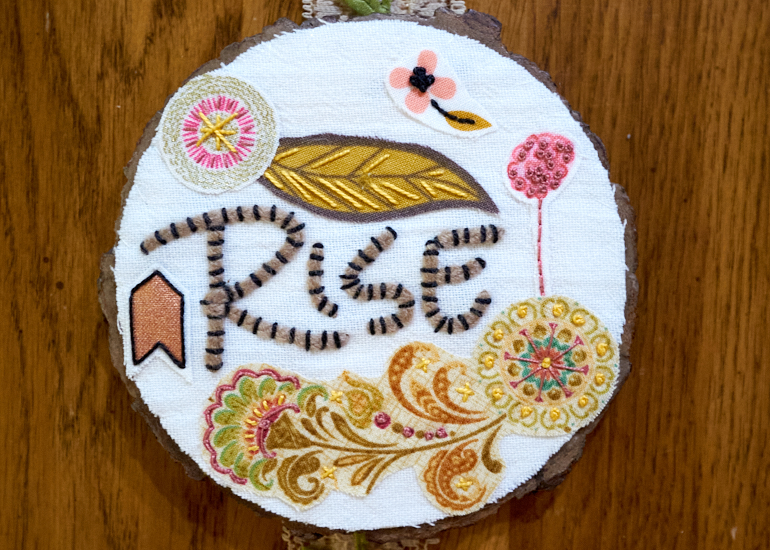 Heal
The second phase of this process is to then begin the healing, thus "Heal" is the chosen word. Healing involves self-love as much as love from your support network, thus the hearts. When someone is ready to get on with healing, a new dawn emerges for them, as they finally recognize that there will be light at the end of the tunnel. I tried to portray this in bright colors, and a hint of life.
The word "heal" is illustrated simply. It just is a thing that needs to get started and get done. It's as straightforward as it isn't: healing is not a linear process, exhibited in the unevenness, but simple straight stitch execution of the letters. But now there is hope, and the yellow pops are like the sunlight shining again against the shadows.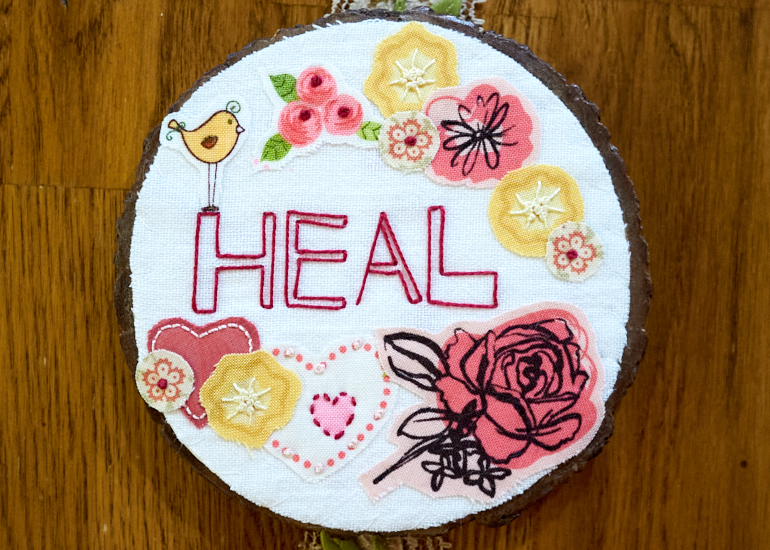 Smile
When healing is in full swing, you can smile again. It will feel good to smile, even though at first, being happy may flood you with guilt. Maybe you smile tentatively in the beginning, but eventually, the smiles will become bold and deep. A new you may emerge after whatever triggered the need for the healing process. A new perspective may have helped you slough off the parts in your life that weren't right for you. A new beginning is at your doorstep.
I chose the running stitch that was then whipped for the letters, in a simple handwritten design. Thin, for the tentative feeling of smiling, but bright. Happy. This medallion is filled more than the previous. More is happening in your life than just obsessing over all the negative ills. There is a world around you, awaiting you to join back in. This medallion portrays that newfound happiness.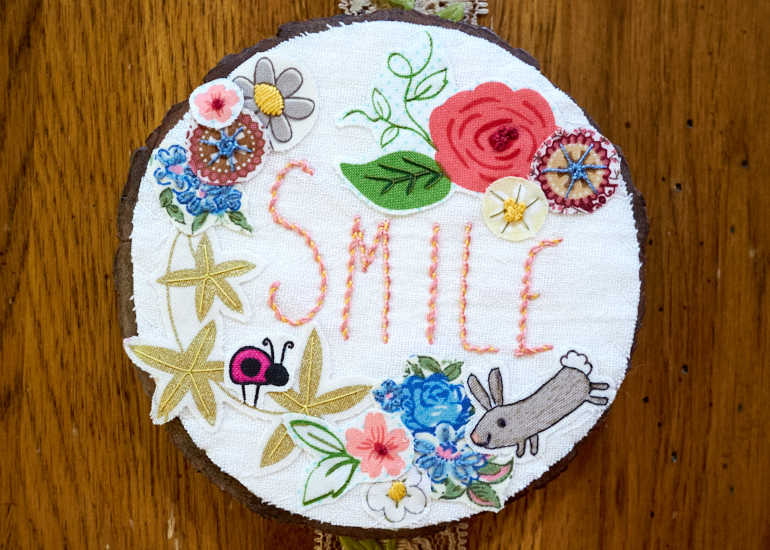 Live
The last medallion is full and bursting with life. You can breathe easy now, knowing that time does really heal all (even if some wounds scar). There's a new you in town, perhaps forever changed, but ready to live again. Earlier medallions had little hints of living things beyond the flowers. First, a bird. Then a lady bug and a bunny. Here, some strawberries, a butterfly, and a home.
Because I wanted this medallion to represent being full of life, I filled in the text with a stem stitch.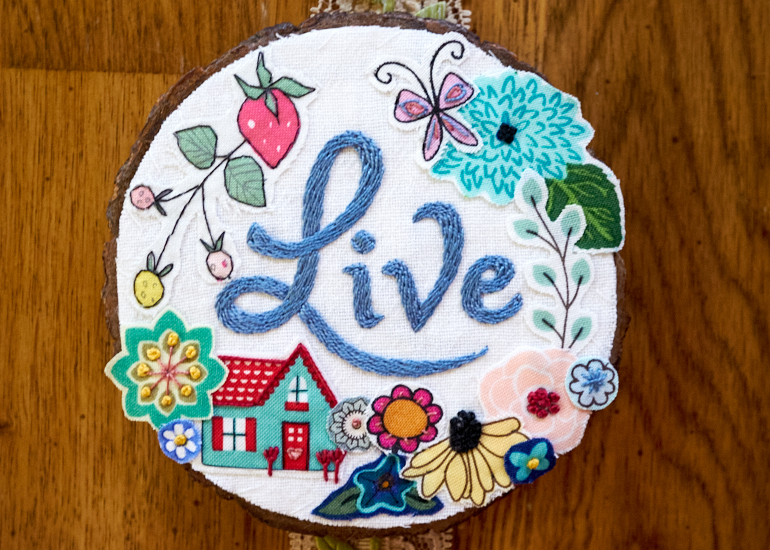 As a series
I used a vintage strap of lace and ribbon, overlaid by a leafy vine of trim to hold them altogether, in order of steps. Life still happens behind and outside of the scenes of personal healing, and the vine visually represents that.
On a technical aspect, I laced the ground cloths of each medallion around poster board, which then was glued to the coaster. The coasters were then glued to the ribbon to hang.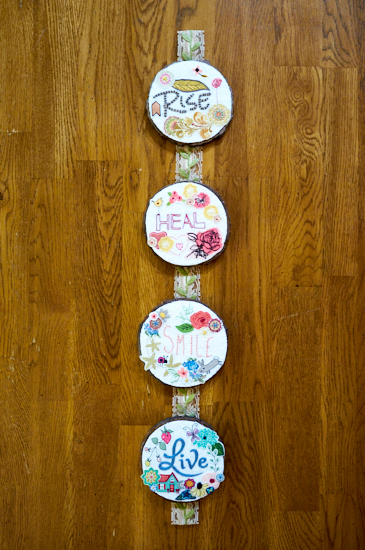 I have several friends going through some things this year, and thoughts of them are stitched into this project. We could all use a little push to get to that last stage again, eh? 2020 has been a real winner…