Today I am traveling for the holiday so I preemptively wrote this for ya'll. I don't have all the photos taken because while I have made progress on both TAST and other WIPs, I just didn't get around to photographing everything.
First, I am making slow progress in my beginner crazy quilt course with Kathy at Shawkl – she posts the info here if you want to sign up for the next opening. I've gotten the block sewn together and now I am making decisions on what type of trims and lacey bits I might want to add. These aren't set whatsoever, just me playing around.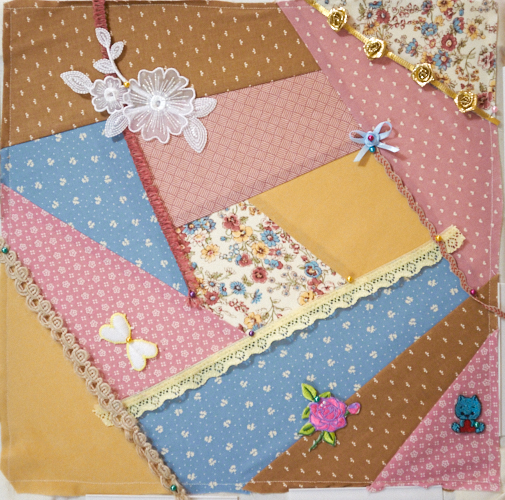 My needlepoint is nearly complete, and then I will work on mounting it to the wood plaque. No photo though. I will likely finish it during my trip. I have another TAST pennant nearly completed, too. And, I organized a lot of patterns I inherited/stashed over the years and pulled out some things I want to do sooner rather than later. Plus, my guild is having another ornament swap and I intend on being a part of it this year! (Last year, my belated mouse was instead gifted to a guild friend who's been very encouraging.)
And last, I'll leave you with this image. It is called a Lifted Star, and either my mom or late gramma made it; I should have asked before posting. I intend on finishing it off with some binding at some point in the future, so technically, I guess this is a WIP even though I didn't contribute to any part of it as of yet! Ha!