My embroidery guild had a Swedish huck weaving project so I opted in! You might remember me mentioning it before, but I finally finished it. The kit came from Nordic Needle though I can no longer find it there – the instructions are still available here, however. To quote the packaging, "what distinguishes huck weaving from other similar styles is the design is worked completely on the top of the fabric, so the thread never appears on the back."
This design by Sue Meier and she offers a few different colorways. According to the instructions, Sue was inspired by a row of trees edging the farms where she lives. "Depending on whether you are viewing the scene in the autumn, at sunrise or at sunset, the colors will vary from rich golds, rusts and burgundies to beautiful greens and blues, to lavenders, pinks and blues." My kit included her Autumn Windbreak colors, so of course it is made with threads of red and gold.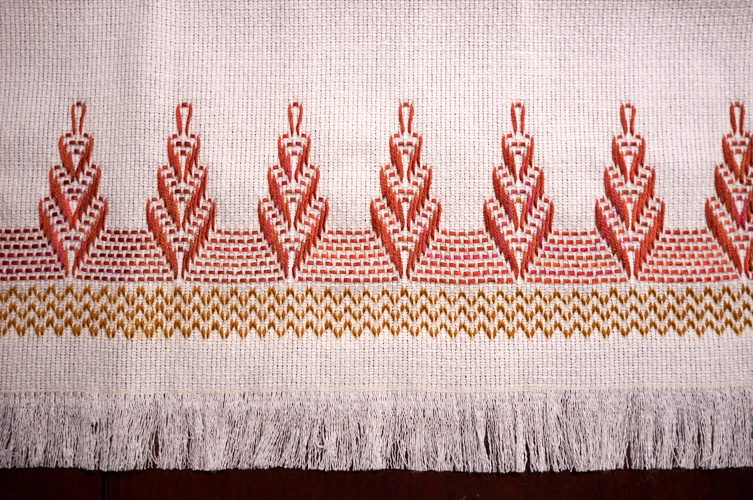 This is also my first fringed piece – pretty simple concept. I really enjoyed huck weaving. If I ever accidentally come across the right fabric, I'll be sure to try my hands at it again – I found it fun, fast, and calming all at once!
The above image was before I washed it. The below image is after. Not only does the fringe look better (though it could use a comb!), but the threads of the towel itself swelled up in the wash and closed the holes. It gives the towel a more sturdy look, and it feels much softer and towel-like. My only qualm is that the colors of the threads did bleed. It's not overtly noticeable, but you can see it more clearly beneath the stitching, where the length of the towel changed from an off-white to a golden white from the thread. There are some reddish bits here and there around the trees as well. I didn't realize that a project kitted with DMC thread – for a white cloth, no less! – would bleed. Lesson learned!