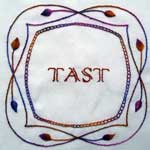 You've read about my idea for this here, right? Ok! See all completed TAST posts here.
Last week's TAST challenge was the Arrow Stitch (or Arrowhead Stitch if stitching vertically). Here is my front and back, for posterity's sake: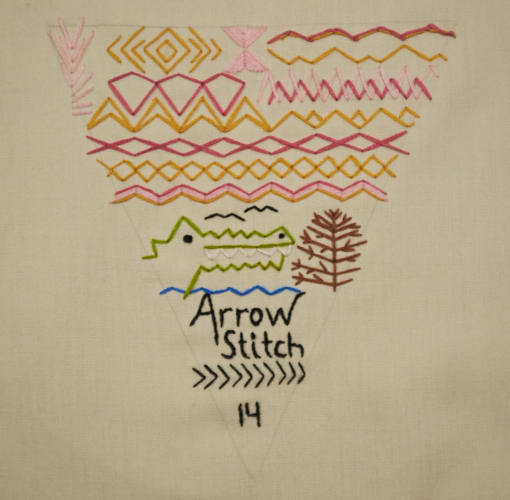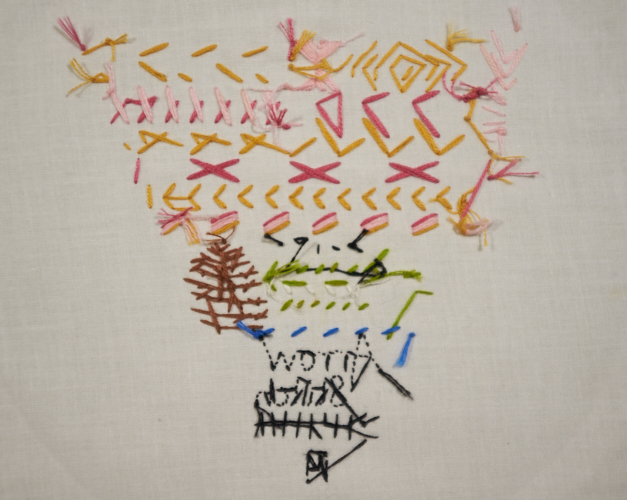 This top portion has several things going on. In the left corner, I was just experimenting with different lengths of the arrowhead stitch (towards the bottom of that light pink, I only stitched one side since the other will be cut away once the pennants are transformed into bunting). Then I played with the same idea, but turned the orange stitches to face each other. The next pink area contains tightly stacked and nested arrowhead stitches. Then I threaded a basic orange arrow stitch with a dark pink thread. Under that, I alternated the height of the orange stitches. I also found I could make geometric shapes fairly easily with the dark pink. Looking at them now, I bet I could add two more well-placed arrow stitches and make a diamond! Then I took light and dark pinks and interwove basic arrow stitches at different heights. The orange along the bottom simply stacked different sized arrow stitches.

I wanted to also contrast the top portion with more simple uses of the arrow stitch. So, in dark pink, I simply offset two rows of arrow stitches. In orange, I stacked two rows to give a very similar (though different sized) diamond shaped effect. And the bottom row are still just basic arrow stitches, tightly stacked in different colors.

For the motif, I stuck an alligator in a pond, with some flying birds and a bare bush to fill in the environment.

And as always, the title portion. It is clear I needed some practice with my stitch lengths and angles here, but I think I got it down now!

With TAST, I am learning that while there may be ways to cheat and make the front look a certain way, if you don't do the stitch correctly, you waste a lot of thread. And sometimes you waste time or add frustration. Being self-taught, I haven't always looked up how to do things "right" because if the front looked right, I didn't care nor understand that there was a "right" way. TAST is awesome and so is Sharon! That being said, I still do things the way that is most comfortable to me, and every stitcher I've come across agrees that that's the best way!