I have two projects to share this week. The first is the TAST challenge: arrow stitch. I am not very far on it yet. I blame the weather (it's been walkable!) and working at the office a lot more. Maybe I should just give up the dream of temporary retirement and realize I have a "real" job even if it is at my husband's company. Sometimes I wonder how he ever got on without me! I hope I am not spoiling him too much since I will be away again this summer on an archaeological project.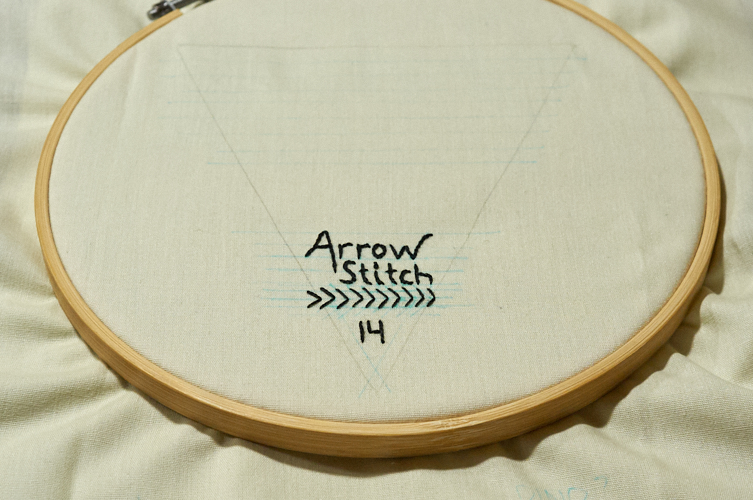 My other WIP is for an upcoming embroidery guild meeting. We will be learning how to create a French Boutis item. I picked a zippered bag in pomegranate color. Not my usual color scheme, and I am all the more excited about that! Our first task was to have the patterned copied to the fabric. Since my bag is a darker color, I opted to trace the design onto the white fabric. I will just have to be quite careful that I stitch through both pieces!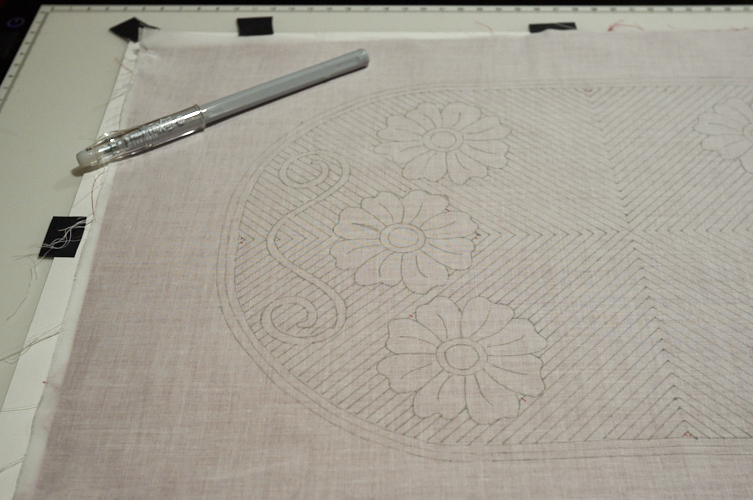 The teacher, a fellow guildmember, suggested I try Pilot's Frixion gel pens. If you haven't heard of these, the gel disappears with heat (iron, blow dryer, or even the microwave – if you google them like I did, you might find an interesting kind of notebook that uses that last method). I made some practice marks on the fabric and then took my iron to it. On this particular fabric, I was left with "ghosting", or very feint lines where the ink had been. Because I am new to French Boutis, I did not want to risk seeing how off my stitches are on the finished product, which is why instead I used a Frixion pen on the white fabric.