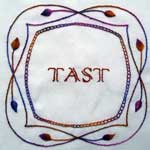 You've read about my idea for this here, right? Ok! See all completed TAST posts here.
Here is my sampler for the chevron stitch, front and back: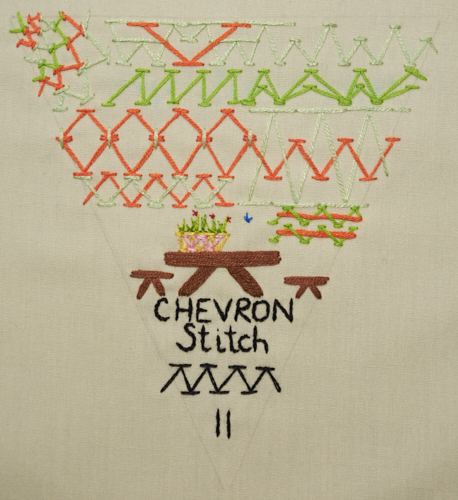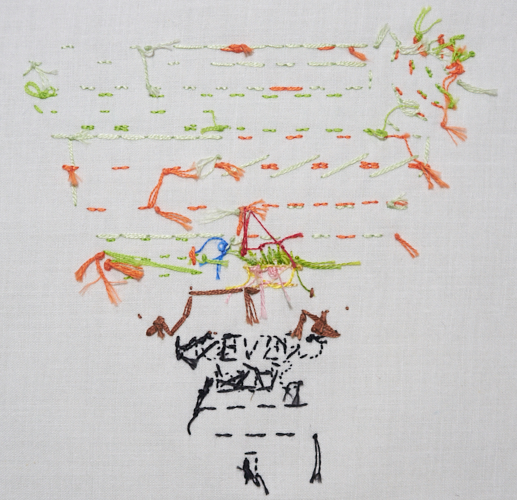 To start, I wanted to see how well the chevron stitch took to a curve (fine!). Then I was curious what happens if you play with the stitch lengths within a single chain, and I overlapped part of it for contrast (light sea foam green and coral). I also wanted to see what would happen if I changed the angle of the stitches and layered them (darker green).

In this section, I played around with mirroring chevron stitches (and used a small straight stitch to add decoration). I also played with overlapping stitches of equal size and interweaving different sizes.

I had to squeeze in one last type of chevron stitch where I normally have just the motif. It is just stacked chevron stitches, with a threaded look. You might recall I wasn't feeling so inspired for a motif idea last week. I finally came up with a plan, though I did cheat a wee bit on the motif here. I wanted to use the single chevron stitch somewhere on the pennant, so I accomplished that here in the vegetation of the little planter (green stems and red flowers), the blue butterfly, and then also the picnic table and benches. However, I needed the furniture to be thick and I did not have anything other than floss to work with. I considered layering the stitches in a tightly stacked way but felt that it would look better if I just widened each leg of the stitch with a couple of straight stitches. Clearly, I've been dreaming of summery weather!

And, of course, the title segment.

P.S. I am learning about search engine optimization (SEO) in addition to FreeBSD administration for the office, so I've been playing around with some things here on my blog. Sorry if you are getting extra notified here and there!