Happy Wednesday, all!
First up, small progress on my ribbon R from last week: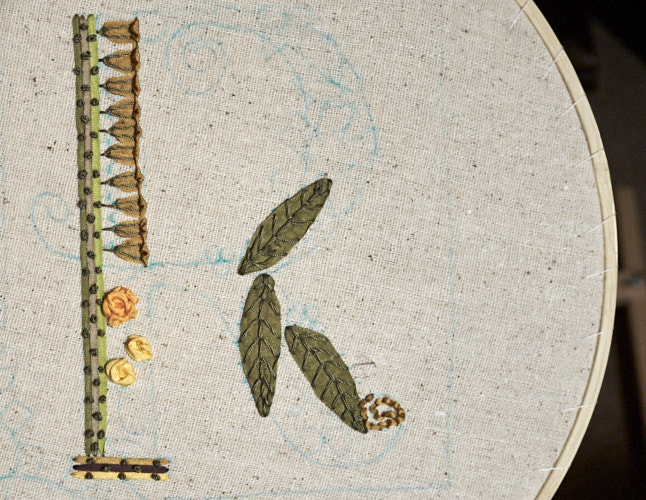 The little scroll at the bottom right will be coming out. I already removed the left-most one, and I hoped trying elsewhere would inspire skill. I just can't seem to get it to bend how I would like. And I don't have a lot of ribbon to screw around with! Grrr.
Additionally, I've been working a lot with Boy so I haven't been able to craft much at home. Ribbon embroidery, for me, isn't portable because I really need the crutch of my hoop stand to do the stitching well.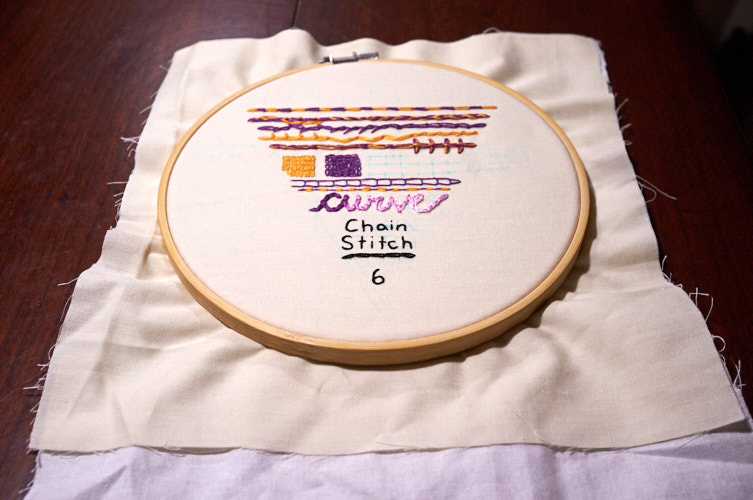 But TAST is portable! This week is the Chain Stitch. I'm almost done with this one, just some sequins and beaded options to add. I'm also a bit disappointed in myself for not getting very creative with my motif (I just stitched a word to illustrate curves, in my poor cursive handwriting, no less – I hate lowercase Rs and Vs!). Plus, the variegated thread didn't work out well here in my opinion. So, if I feel inspired before I wrap up the last few stitches, I'll rip it out and try something else. Truth be told, that's pretty unlikely at this point.
Oh, and our guild met back up for the first meeting of the year last night. I was asked if I'd like to contribute to the education side of things and I said yes! I don't really know what that means, but I'll get together with someone before next meeting to learn more. This year's education program looks fun – boutis is even in the mix and something called huck weaving (or Swedish weaving). I'm excited!