This week's lesson was to draw bananas. Tom had an image of bananas pre-cut for each of us to speed along the class for those who can't draw quickly (or at all).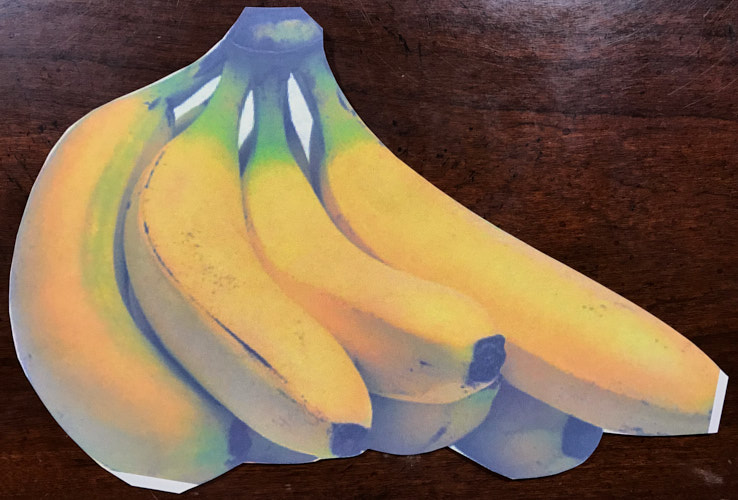 Then we set to work, making our bananas. Tom lent a few of us his pencils to take home so we would continue to work on them – below is how far along I was when we left. I doubted I would have time, but time I did have! I still needed to work on blending, and then figuring out how to add some highlights I inadvertently left out. Plus, add the blackened lines and dots to really bring it to life.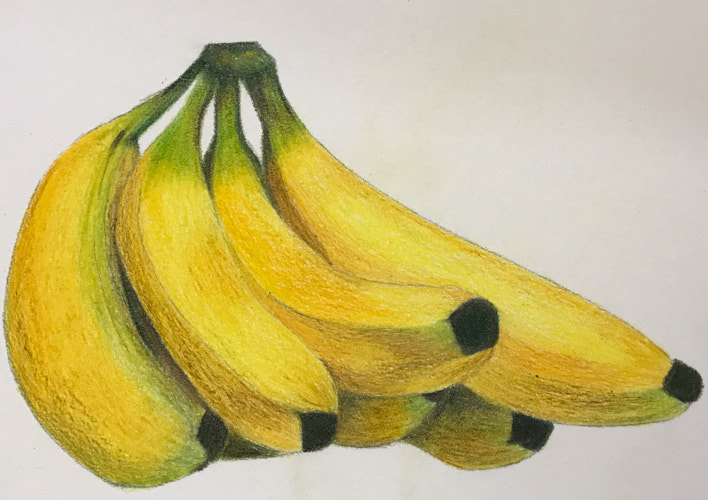 So I put some more time into it, and then contemplated how to blend it. The colorless blender wasn't really working. I tested out the colorless blender marker and didn't like the results either. The option I craved was baby oil, but alas, my household is empty of such magic. My last option available was the little paper blending stumps. I did not test this approach, though I wish I had. Rather than doing much blending (perhaps because I had coated it all in the colorless blender pencil?), it appeared to have only burnished the whole thing, making it a little reflective. Then, I couldn't do much about blending in the splotchy colors. That said, though, bananas can be a bit splotchy so I'm not overly bothered. I just know the baby oil woulda been magical! And to correct the missing highlights, Tom had explained I could scrape off the pencil, so I dug out my stiletto and did just that. Yay! Final touchups in dark brown and black for that finished realism look. Ta-da!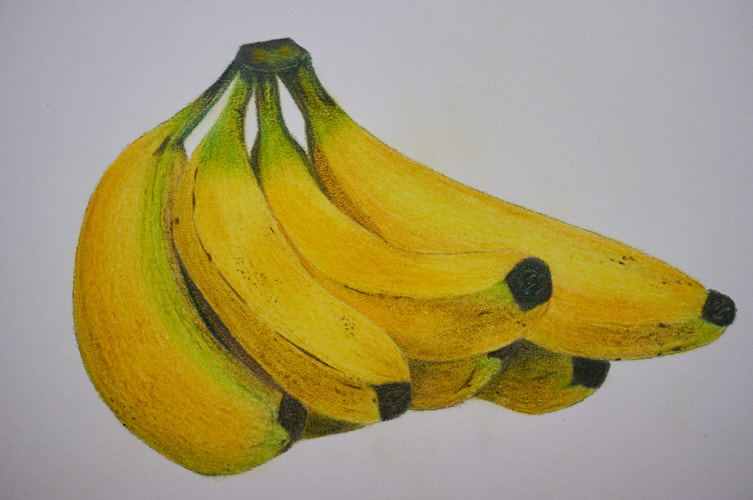 Boy and I were out shopping earlier that day and we talked about the show Arrested Development's "There's always money in the banana stand" story line. How ironic that later I would go to class to draw bananas! So, that's this one's title: There's always money in the banana stand!
I feel like this is an art form I enjoy, unlike painting or water color painting or photography. The teacher even asked me how I felt about it as he went around to each student. This is my fourth attempt at colored pencil; I can even count the exact hours spent: 7 hours. I'm quite pleased with the result for being such a newb! I can't imagine if I practiced this regularly where I would end up in a few years.
Now the question I find myself asking, though, is "so what?"? Unlike embroidery, I just don't see me doing colored pencil to pass my time. I haven't yet figured out why there is a distinction in my mind, so I am still working on it. In fact, I considered maybe doing a colored pencil image and then adding embroidery to it. Sounds cool, right? Whatever happens, you'll be the first to know!