I attended another floral workshop this week for a winter outdoor arrangement. Our pots were already filled with dirt, and our greenery kit awaited us. We got to pick out two packets of adornment (everything from a natural look to full-on glitter, from sticks and pinecones to feathery balls and christmas faire). I went non-traditional in that I was the only person to select something glitter-free and purple (a type of dyed holly maybe?) rather than glittery golds, reds, whites, or blues, though I did add some bronze-y glittered pinecones. I thought it would look rather popping with my red house.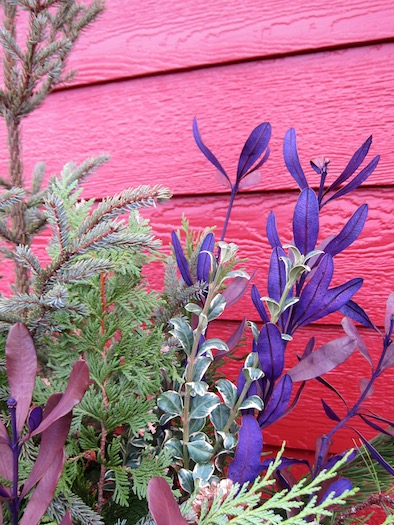 The shopkeeps ran through a demo that made it look as easy as slicing butter. When it was my turn to begin, I looked at my sorted pile of greenery (from biggest and sturdiest to smallest and floppiest); I felt rather uncertain with what to do with it. I reminded myself that this happened to me last time, and at the end of that venture, I had what I felt was a pretty awesome arrangement so I kept making fresh stem cuts, kept scraping off the last few inches of each branch, and pushed them into my pot, waiting for the tide to turn into pleasant surprise. The shopkeeps came around every once in a while with tips and encouragement as we dined on snacks, drank wines, and pretended we knew what we were doing.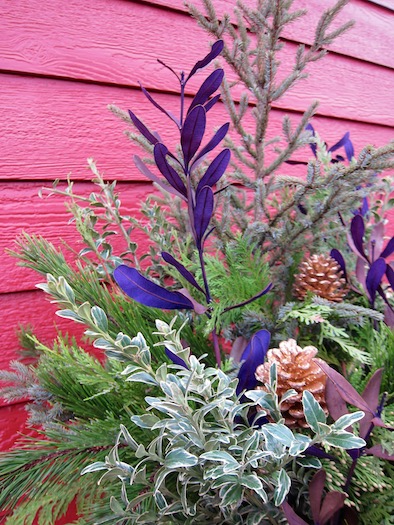 To me, floral arrangements seem to be like tubing behind a boat. When you stay in the wake, it is pretty boring, so you fight and fight to pop out outside of the wake, and sometimes you are so tired you aren't sure you can make it (my memories of this come from when I was a kid – I wonder how easily this actually might be now as an adult!). And then you do, and it's rough waters, and you aren't sure why you like spray in your face and bouncing around like a die in Yatzi any more than a relaxing ride behind a boat. So you pop back over to where calmer waters await and have a sense of happiness that you overcame that trial, and you are content.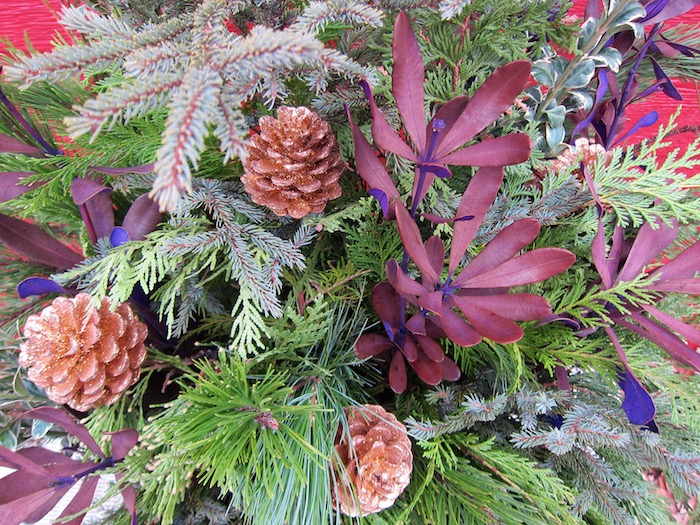 For me, this runs parallel to my two experiences of making a floral pot. Pushing things into dirt seems easy enough, then it becomes a jungle mess that you can't appreciate so you keep plodding through wondering why you are even making the attempt, and eventually it begins to come together, and then you spruce it up, and voila! You have a beautiful arrangement. How did that happen?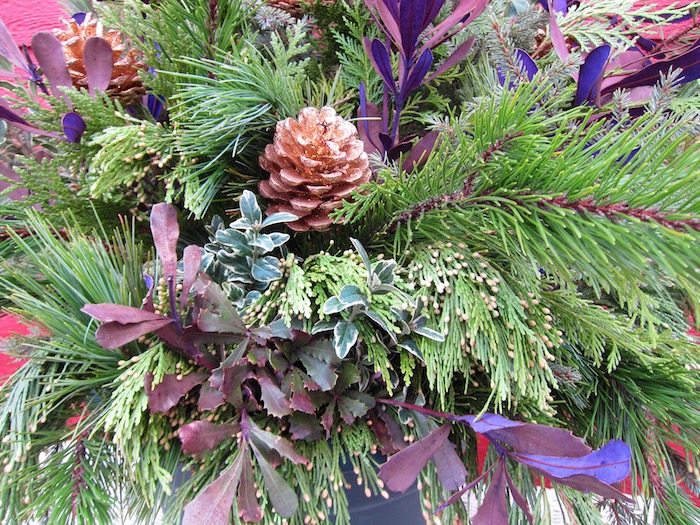 I've decided that I enjoy these workshops and will likely keep attending. I kind of wish there was one a month, though I obviously would not always have time for that. It was a nice little creative getaway for me, since I haven't been able to do anything imaginative for quite some time now. Looking forward to next summer, I tell you what!