Here are some links to things I've found on the interwebz lately (and my first attempt at embedded videos).
Axis of Awesome is a band that has shown the world the power of understanding music in their 4 Chord Song. Did you know all the popular songs in the last forty years is played with 4 chords? Brilliant!

They led me to google Canvas Bag which led me to Tim Minchin who is another amazing (comedy) musician. I love this song, Rock n Roll Nerd – it is so honest!
http://www.youtube.com/watch?v=QQ0G5Nik8iY&w=320&h=240&rel=0
3DSMiis.com is a new site in beta-test where 3DS users can upload Miis that they created. I am a huge Nintendo fan and this will be awesome to grab some of my favorite characters without having to do all the work myself of creating them. (This is Professor Layton, without his tophat 🙂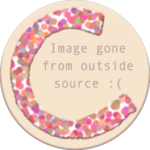 I am really digging Checkout Girl's projects lately. I've started one similar to hers but I doubt I have the skill level to make it as awesome. It has actually been in the works for quite some time but life keeps getting in the way.

Do you have any interesting places to check out on the world wide web?